Health Care Reform Special Report
Get Ready to Play or Pay: Employer Shared Responsibility Under Health Care Reform
After a one-year delay, health care reform's employer shared responsibility ("play or pay") penalty tax rules are scheduled to take effect January 1, 2015 – and action is required now, as certain steps must be taken in 2014 for application in 2015.
The scope of these activities is likely to require engagement of a multi-disciplinary team drawing on internal and external resources. Download this free special report for an overview of employer shared responsibility provisions, with suggested action steps for employers and accounting firms advising their business clients.
Request FREE Special Report:
Get Ready to Play or Pay: Employer Shared Responsibility Under Health Care Reform
(All fields required)
---
---
» NOTE:By clicking "Submit," you agree to be contacted in order to help with your inquiry.
Choose your preferred format to keep up with the complex maze of new regulations and processing impacting your clients!
WEBINARS
---
8 CPE Credits | $189 or FREE with Premier Plus*
Accountants are uniquely positioned to advise clients on the impact of Health Care reform and how to avoid associated taxes and penalties. This course will provide practitioners with the tools and strategies you need to effectively advise your clients in light of these reforms.
2 CPE Credits | $89 or FREE with Premier or Premier Plus*
In this webinar we will define the large employer mandate, discuss planning in 2014, qualified plans, measuring large employer status, measuring employee hours, seasonal employees, calculation of penalties, exempt employees, planning strategies, reporting forms and requirements, Health Reimbursement Accounts, small employer concerns and more.
ONLINE COURSES
---
2 CPE Credits | $42 or FREE with Premier or Premier Plus*
2 CPE Credits | $56 or FREE with Premier or Premier Plus*
Contact us today to discuss the best training options for your firm at 800.231.1860. Or, visit us at cl.thomsonreuters.com.
---
HEALTH CARE MARKETING SOLUTIONS
Position your firm as a thought leader on the Affordable Care Act. This monthly email newsletter will help you communicate the legislation's provisions as they roll out, share recently released guidance, review the impact on employers, and provide strategies for ACA compliance while controlling costs, minimizing tax, and achieving business goals. Your clients will appreciate the monthly updates. You will value the return on investment.
The ACA Tax Overview (Large Employers) focuses on the play or pay provision, including its effect on HSA and HRA contributions. It also reviews increased Medicare tax withholding, employer wellness incentives, minimum coverage, affordability and value, and how to calculate penalties. The guide is available for small or large employers in multiple mix-and-match formats (print, email, PowerPoint and more) for maximum leverage and effectiveness.
To learn more about these health care marketing solutions, visit us online or call us at 866.240.8477.
RELATED GUIDANCE
With the ACA Decision Support Tool, simply input employer-specific data to generate a customized analysis of the ACA's impact, including a determination of whether a business is an applicable large employer subject to the employer shared responsibility rules and the potential play or pay penalties. You can also assess the impact of adding or dropping employees, converting employees from full-time to part-time status, or increasing or decreasing employees' share of premiums.
---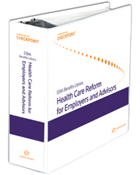 EBIA Health Care Reform for Employers and Advisors
Written and edited by experienced employee benefits attorneys, EBIA Health Care Reform for Employers and Advisors is your essential partner for employer plan compliance, and provides up-to-date expert analysis of the key requirements that affect employers, advisors, and insurers. It features in-depth coverage of legal requirements and information critical to effective decision-making – with examples, tables, implementation timelines, sample documents, and practical tips that will help you comply with the myriad of complex rules.
---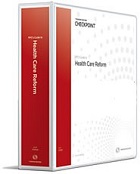 PPC's Guide to Health Care Reform
PPC's Guide to Health Care Reform provides a single source of practical easy-to-understand guidance on the key provisions of the Patient Protection and Affordable Care Act and the Health Care and Education Reconciliation Act of 2010. Additionally, since Congress left much of the implementation to government agencies, it provides ongoing coverage of IRS, DOL, and HHS pronouncements to help you stay abreast of developments and expanded reporting requirements as they unfold.
---

Health Care Reform Quickfinder Handbook
Health Care Reform will have wide-ranging implications for individuals and employers. Employer mandates to provide insurance coverage, individual mandates to obtain coverage, credits and subsidies to help individuals purchase coverage, exchanges for acquiring coverage, new reporting requirements and taxes are a few of the many changes that will impact your clients. They are likely to have questions. We've got the answers. Our new Health Care Reform Quickfinder Handbook makes it easy for you to quickly locate answers and respond to the many questions your clients are asking.
---
Already a Customer?