Newly Updated Timeline of Health Care Reform Provisions
Although Congress passed health care reform in 2010, many of its most sweeping provisions have delayed effective dates—2014 is a critical year for individuals and businesses. The timeline in this newly updated Special Report highlights the key tax provisions that take effect from 2013-18.
Fill out the form below for the full complimentary report.
Request our FREE Health Care Reform Special Report:
Timeline of 2013 – 2018 Tax Changes In Health Care Reform Legislation
(All fields required)
---
---
» NOTE: By clicking "Submit," you agree to be contacted in order to help with your inquiry.
YOU MAY ALSO BE INTERESTED IN:
Whether you're handling payroll yourself or you prefer to refer payroll business to a service provider—or if you're anywhere in between—we've got a solution that can work for you.
Accounting CS Payroll—Looking for an easier way to process payroll for your clients? Fully automated and designed for cross-client processing, Accounting CS Payroll offers new ways to streamline your workload, do more with less, and even do your own payroll more efficiently.
Accounting CS Client Access—Have clients that want to process their own payroll? Advanced yet easy to use, Accounting CS Client Access automates payroll functions to help your clients with processing payroll, check writing, and direct deposit, while you focus on their tax compliance needs.
myPay Solutions—Prefer to refer your payroll processing to a professional service, but want to stay involved? myPay Solutions offers a payroll processing service designed for firms that want all the benefits of being involved in their clients' payroll, without the liability of having to process it. myPay Solutions can handle any size payroll for you—plus much more.
To learn more about these payroll resources, please visit us online or contact us at 800.968.8900
RELATED GUIDANCE
With the ACA Decision Support Tool, simply input employer-specific data to generate a customized analysis of the ACA's impact, including a determination of whether a business is an applicable large employer subject to the employer shared responsibility rules and the potential play or pay penalties. You can also assess the impact of adding or dropping employees, converting employees from full-time to part-time status, or increasing or decreasing employees' share of premiums.
---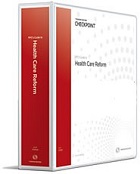 PPC's Guide to Health Care Reform
PPC's Guide to Health Care Reform provides a single source of practical easy-to-understand guidance on the key provisions of the Patient Protection and Affordable Care Act and the Health Care and Education Reconciliation Act of 2010. Additionally, since Congress left much of the implementation to government agencies, it provides ongoing coverage of IRS, DOL, and HHS pronouncements to help you stay abreast of developments and expanded reporting requirements as they unfold.
· Print: 1 Volume/Updated quarterly – $310
· Online (updated monthly): $360, 1 user
---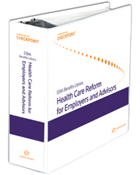 EBIA Health Care Reform for Employers and Advisors
This manual is designed to help employers, insurers, and advisors comply with an array of new requirements. It includes rules and limitations relating to grandfathered health plans; additional plan mandates (including rules for dependent coverage, limits, caps, PCEs, appeals and external review, and new notices); tax incentives and penalties; Exchanges and qualified health plans. Implementation guidance and timelines included.
· Print: $390
· Online (updated monthly): $695, 1 user
---

New—Health Care Reform Quickfinder Handbook
Health Care Reform will have wide-ranging implications for individuals and employers. Employer mandates to provide insurance coverage, individual mandates to obtain coverage, credits and subsidies to help individuals purchase coverage, exchanges for acquiring coverage, new reporting requirements and taxes are a few of the many changes that will impact your clients. They are likely to have questions. We've got the answers. Our new Health Care Reform Quickfinder Handbook makes it easy for you to quickly locate answers and respond to the many questions your clients are asking.
· Print or eBook: $45 – Buy both and save!
HEALTH CARE
REFORM CPE
FULL-DAY WEBINAR
Webinar | 8 CPE | $189 or FREE for Premier Plus Subscribers*
The biggest social reform since the implementation of Medicare and Medicaid, Health Care Reform also brings a unique opportunity for practitioners. Accountants are uniquely positioned to advise clients on the impact of Health Care reform and how to avoid associated taxes and penalties. This course will provide practitioners with the tools and strategies you need to effectively advise your clients in light of these reforms.
---
FOUR ONLINE COURSES AVAILABLE
Online Course | 2 CPE
---
Online Course | 2 CPE
---
Online Course | 2 CPE
---
Online Course | 3 CPE
---
Course prices range from $48-$56 each and are available at no charge for Premier and Premier Plus subscribers.*
Contact us today to discuss the best training options for your firm at 800.231.1860. Or, visit us at cl.thomsonreuters.com.
---
---
Already a Customer?