Level up your Alteryx data workflows with ONESOURCE
Get the most out of Alteryx + ONESOURCE with the Alteryx Workflow Library and Alteryx Innovation Hour
Now more than ever, data is at the heart of unlocking efficiencies within your business
With the ONESOURCE partnership with Alteryx, we put the data you need at your fingertips, when and how you need it.
With the Alteryx Workflow Library, you get access to pre-built Alteryx workflows, apps, and macros that automate data management, calculations, and analytics across every tax process.  You will be able to download these building blocks to your Alteryx Designer or Server and begin to realize the return on your investments that much faster. 
For customers who have licensed Alteryx through Thomson Reuters, you will be able to select certain building blocks from the library, gain access to documentation and the new ONESOURCE - Alteryx Community for support. In addition, you can also purchase 1:1 enablement and/or configuration services from our Professional Services team.
Get the most out of your new workflows with the Alteryx Innovation Hour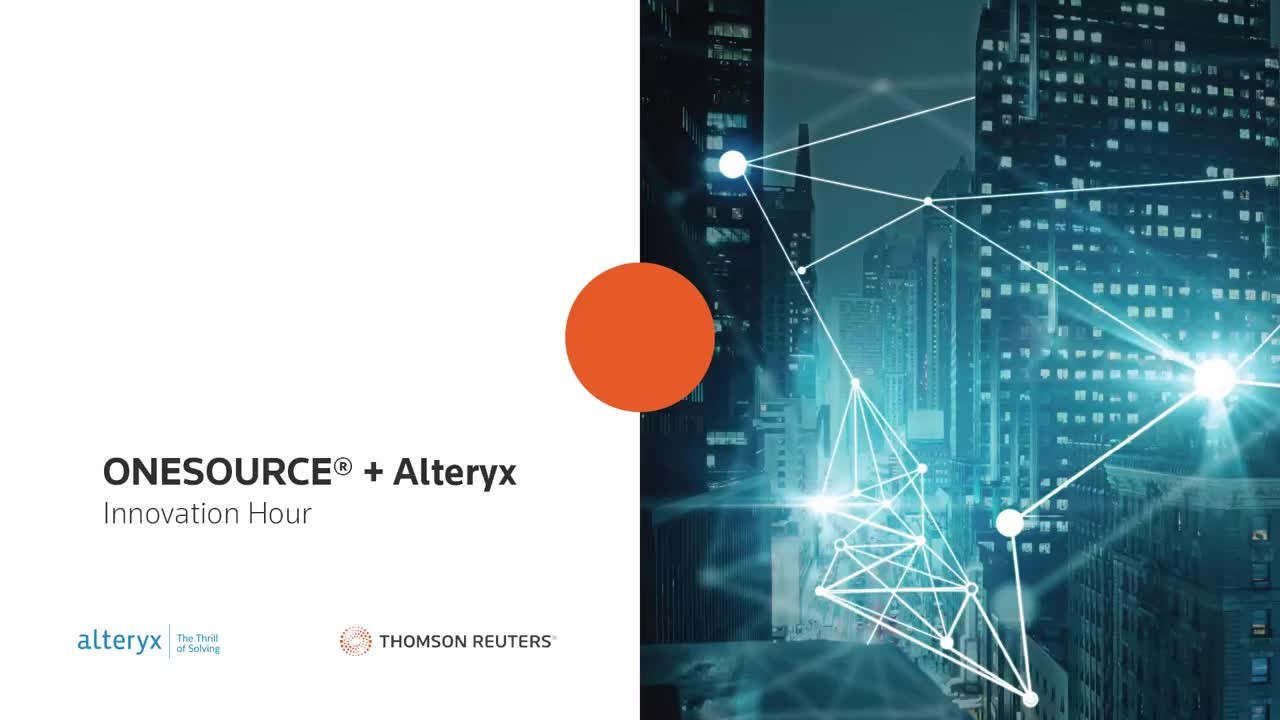 56:33
Every Thursday at 12PM-1PM EST, our team of ONESOURCE and Alteryx subject matter experts will walk through demonstrations and speak to user-submitted questions and topics. Sign up today for FREE and learn how you can maximize your tax technology in more ways than ever before!
Check out one of our latest recordings to get a sneak peek into our experts' answers to top user questions and their demonstrations on how best to activate the workflows within the Alteryx Workflow Library.
Contact us to learn more about how Alteryx Workflow Library can work for you
---
Thomson Reuters + Alteryx
Modernize your workflow with the combined power of industry-leading Alteryx data science and ONESOURCE tax automation platforms