Thomson Reuters + Alteryx

Modernize your workflow with the combined power of industry-leading Alteryx data science and ONESOURCE tax automation platforms

---
Are you ready to unleash your data potential?
Now more than ever, data is at the heart of unlocking efficiencies within your business. Imagine what you could do with all your business's data at your fingertips: enhanced scenario modeling, streamlined trend analysis, and proactive planning to be nimbler in the face of change. But what if your data is stuck in disparate systems, locked away and unable to be used to its full potential? That's where Thomson Reuters ONESOURCE and Alteryx change the game.
Thomson Reuters® ONESOURCE™ is the industry's most powerful corporate tax technology platform and drives global tax compliance and accounting decision-making around the world. Our clients depend on cutting-edge workflow, comprehensive automation, and analytics to support their data reporting requirements. Our partnership with Alteryx solves the challenge of data collection, transformation, and load for ONESOURCE™ customers and prepares data for enhanced reporting and analysis. This puts the data you need at your fingertips, when and how you need it.
By licensing Alteryx through Thomson Reuters, you can:
Simplify your order and renewal process with our packaged offerings
Eliminate 90% of manual effort within the quarter with a streamlined implementation process, sparking optimization for years to come

Enjoy exclusive benefits, such as access to connectors at highly reduced prices

• Multiple Data Sources • Gathering & Centralizing • Mapping & Transformation • Formatting & Alignment • Reprocessing of Changes • Cleansing & Maintenance
• Scheduled Execution • Automated vs. Manual • Repeatability & Consistency • Auditability
• Issue Identification & Validation • Inquiries & Insights • Comparatives • Management Reporting • Visualization & Analytics
A unique solution tailored to your needs
Just like most things in life, there's no "one size fits all" when it comes to your company's tax automation needs. One of the ways ONESOURCE makes data more accessible across your tools is through our unique partnership with Alteryx. Watch our video series to see how you can get more out of your ONESOURCE solutions than you ever thought possible.
Expand your tax provision visibility, accuracy, and efficiency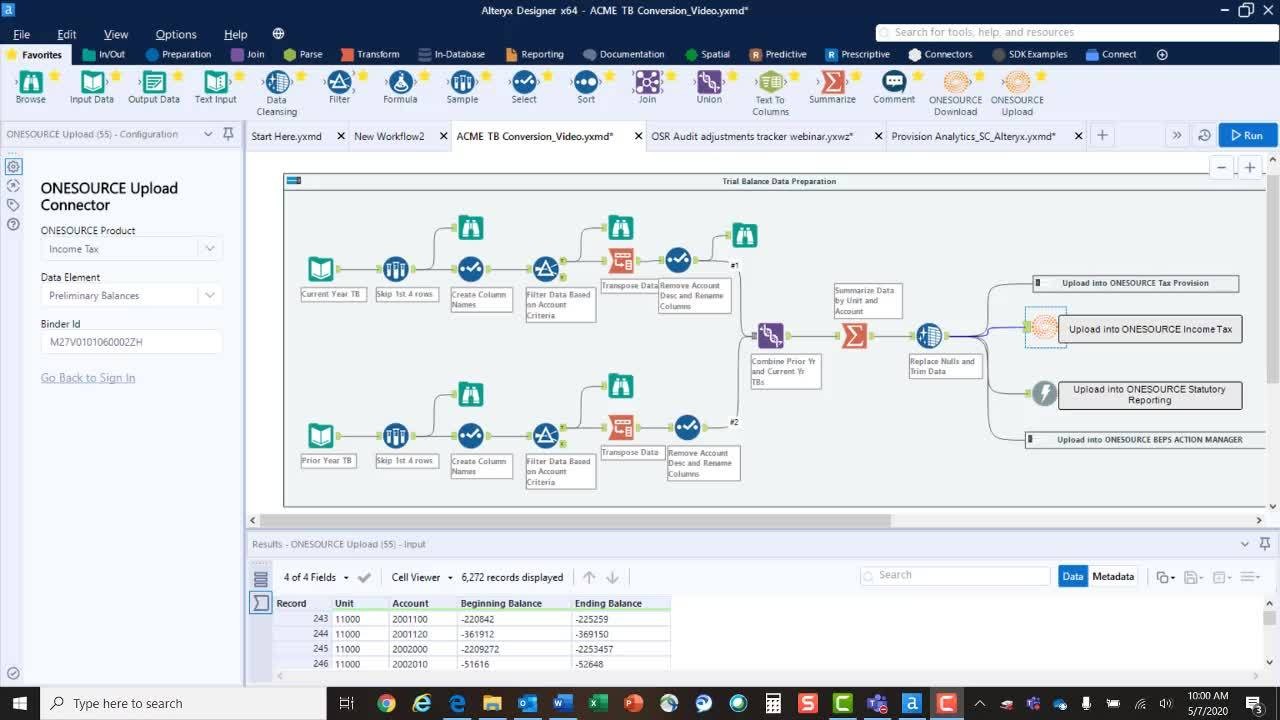 04:28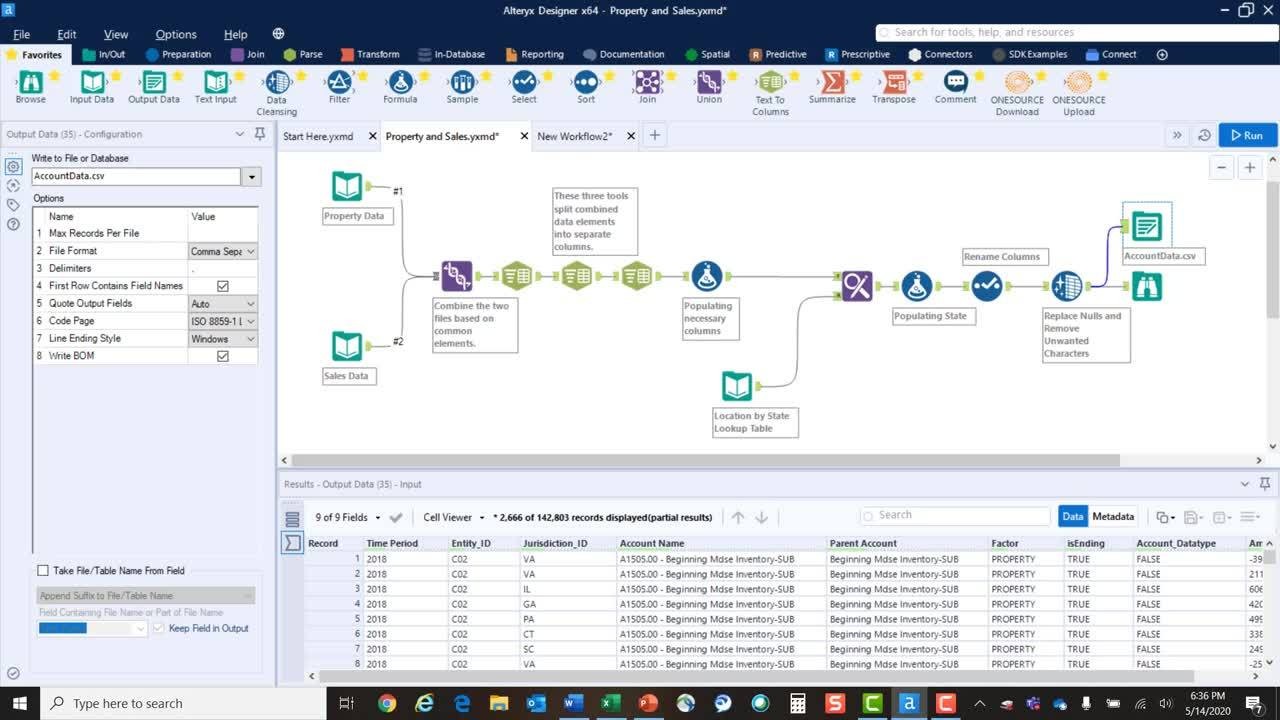 06:19
Scenario plan faster than ever before
Stay on top of important deadlines and tasks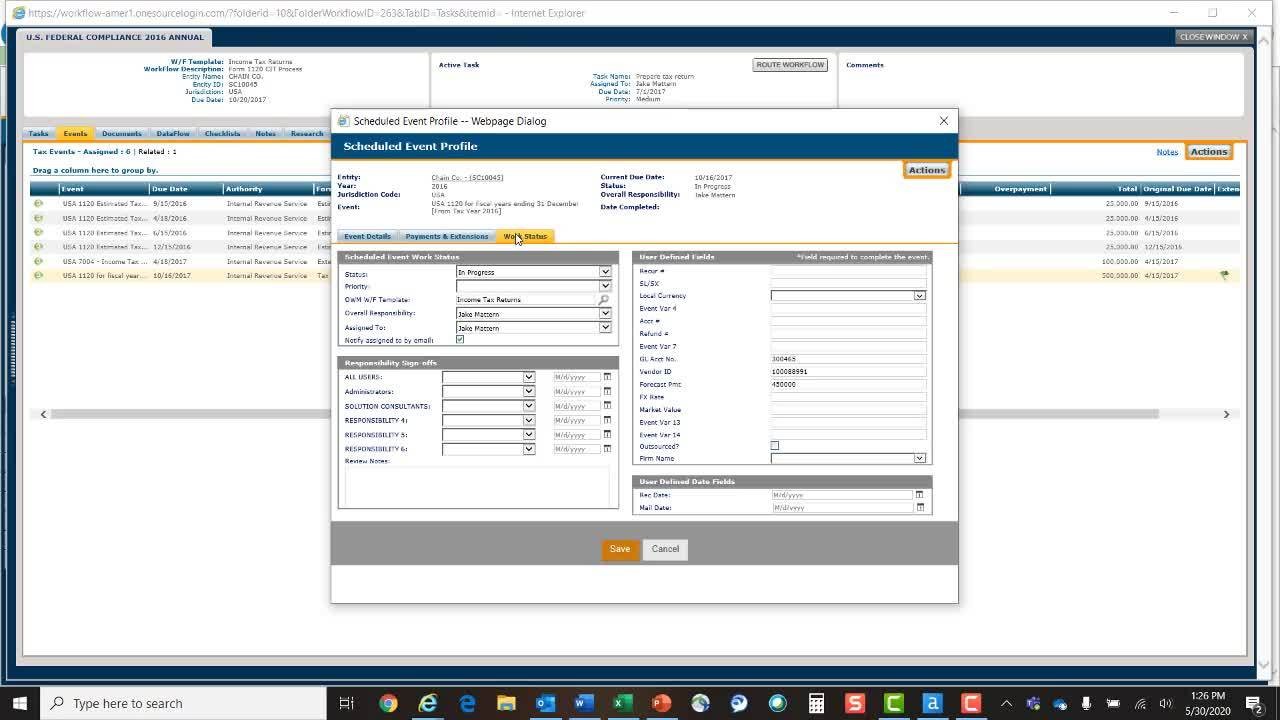 06:19
99%

Automation and controls for tax provision, trial balance acquisition, data cleansing and upload

6-8

Days per quarter eliminated with clean up and merging of state apportionment data

100+

Hours saved with book tax depreciation and basis difference maintenance

2-4

Days per month eliminated with sales and use tax data pull and upload

4

Days per month eliminated for balance sheet and flux reporting
Alteryx and ONESOURCE™ support the holistic lifecycle of tax
Data Preparation & Formatting
Data Manipulation & Tax Sensitization
Centralization, Organization & Computation
Primary Source of Tax Information

Data Extraction & Alignment
Flexible Reporting & Analytics

Ready to start a conversation?
Need more information about how our solutions can work for you? Drop us a line and someone from our sales team will get back to you.