Tax and accounting
Tax automation solutions
Automate sales and use tax while streamlining the tax provision process so you stay compliant with your business tax returns
Streamline your tax provisioning process
Improve tax filing and return accuracy by automating your financial close and complex tax calculations.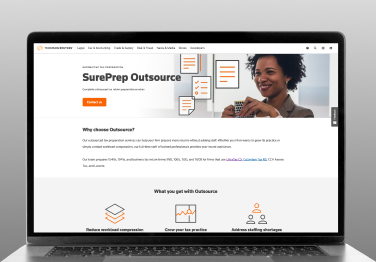 SurePrep Outsource
Help your firm prepare more returns without adding staff with our tax preparation services. Whether your firm wants to grow its practice or simply combat workload compression, our full-time staff of trained professionals provides year-round assistance.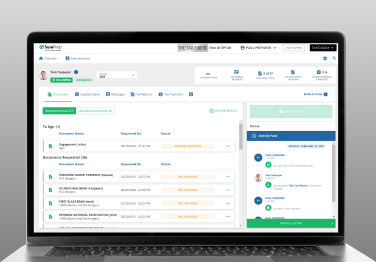 SurePrep TaxCaddy
Streamline communication, document gathering, questionnaires, e-signatures, tax payments, invoicing, and tax return delivery with the ultimate 1040 client collaboration software that provides the most taxpayer-focused tax client portal — available as a website and a mobile app for iOS and Android.
Discover more about our tax planning and preparation solutions
Whether you're looking for tax and accounting or international trade and supply chain solutions, uncover products that will give your organization the boost it needs.
Questions about our products and services? We're here to support you. 
Contact our team to learn more about our tax and accounting solutions.
Need help?
View account and product support
Already a customer?
Go to product logins