New Special Report!
YEAR-END TAX PLANNING FOR 2013
This Special Report contains year-end tax planning tips that highlight the unique opportunities and challenges faced by taxpayers in today's uncertain legislative environment. It includes two checklists of actions that can cut taxes for taxpayers for this year and in the years to come—one that describes actions individuals can take to save taxes and one that describes actions businesses and business owners can take to save taxes.
Download Free Report: Year-End Tax Planning for 2013
(All fields required)
---
---
» NOTE: By clicking "Submit," you agree to be contacted in order to help with your inquiry.
Related Guidance

The Tax Planning & Practice Guide, Tax Saving Moves for the Rest of 2013, is designed to facilitate year-end tax planning in a challenging environment that includes a higher top income tax rates for ordinary income, capital gains and dividends; uncertainty surrounding the extension of dozens of expiring individual and business tax provisions at year's end; and more.
---

Designed to provide complete and thorough answers to all your clients' federal tax questions, the Federal Tax Coordinator 2d offers a detailed and comprehensive analysis of all Federal tax laws, regulations, relevant court cases, and IRS rulings and releases. The expert analysis is supported by extensive and detailed citations to controlling authorities.
---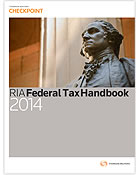 Designed to provide quick and easy answers to critical tax questions, The RIA Federal Tax Handbook offers comprehensive, insightful guidance on federal tax law, including the latest regulations, rulings, and revenue procedures as well as precise explanations about changes that could impact your business or your clients.
Related Checkpoint Learning Courses
Two Checkpoint Learning interactive online courses are available that focus on key tax planning steps for individuals and provide CPE credits to meet year-end deadlines:
Online | 6 CPE | $96 or
FREE for Premier & Premier Plus Subscribers*
---
Online | 10 CPE | $140 or
FREE for Premier & Premier Plus Subscribers*
---
*LEARN MORE:
Premier & Premier Plus CPE Packages
---
Already a Customer?