Tax provision software | Thomson Reuters ONESOURCE

Tax Provision
Simple, intuitive tax provision software to speed up your financial close
When it's time for financial close, time is of the essence — and you rely on accurate tax provisioning to speed up the process. Thomson Reuters ONESOURCE Tax Provision software calculates tax estimates in seconds, and lets you quickly review data with filtering and drill-down capabilities. Plus, you can easily move data from tax provision to other direct tax software, so you only have to enter it once. Which means closing faster, filing earlier, and freeing up time to grow your business.
How will the 2016 ONESOURCE Tax Provision enhancements take your tax reporting to the next level?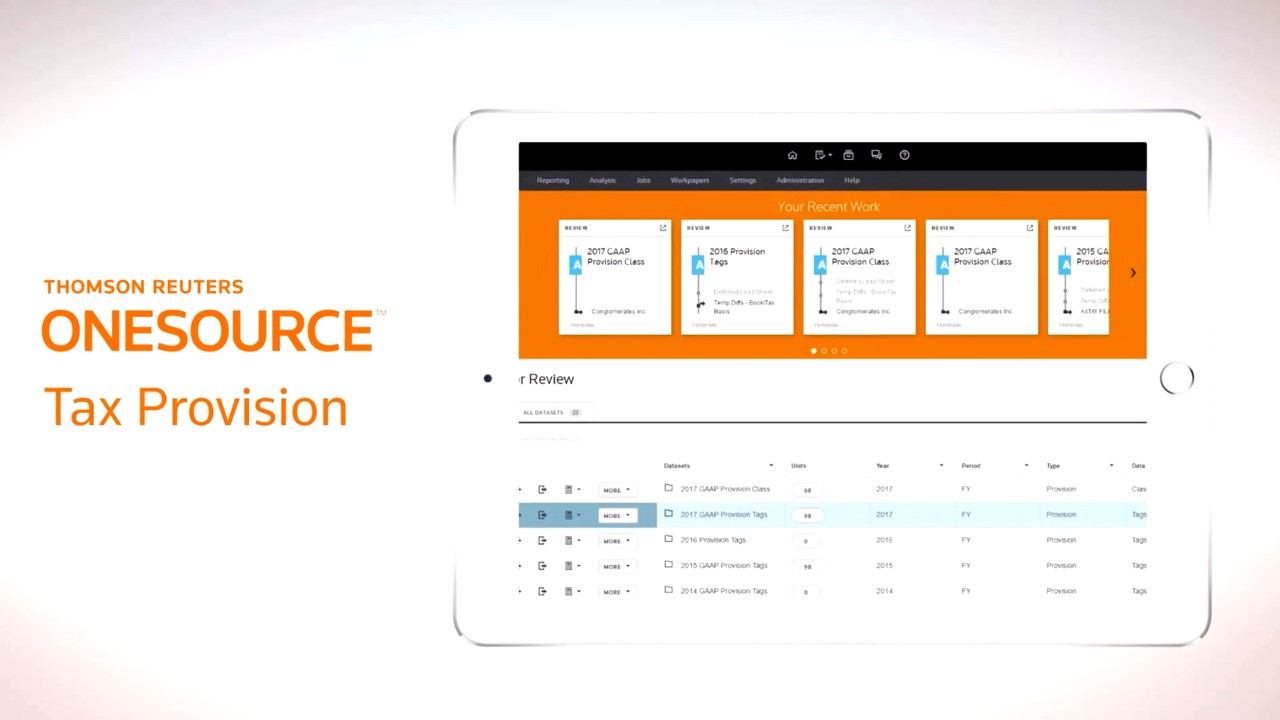 01:41
What you get with our tax provision software
Filter data to focus on relevant subsets, and drill down from consolidated amounts to the lowest level in just 2 clicks.
See all tax provision results on the dashboard, so you can see a flow from calculated values to the entries that drive them.
Access all applications in one central location and eliminate duplicate work with the ONESOURCE platform.
Add-on module of Tax Provision that embeds custom calculations and Excel® workpapers directly into your provision software.
Add-on module of Tax Provision that enables colleagues all over the world to enter information into your provision database.
Integrates with Tax Provision to help you analyze and report tax treatment of open positions under ASC 740-10-50 and IAS 37.
Integrates with Income Tax and Tax Provision to pull the data you need to forecast tax impacts on your global operations.
Tax provision customers also buy these solutions
Get everything you need to automate and streamline your corporate income tax process, from planning and provisioning to filing and reporting.

Properly structuring data for tax provision

"How much do we owe?" doesn't always have a straightforward answer. In fact, for most modern companies, tax provision is a tremendous data challenge. Discover tips to close faster and file earlier in this white paper.

We knew we needed to implement a tax solution that enabled automation and efficiency. Switching to ONESOURCE was a massive step forward in our transformation process.