New Special Report!
YEAR-END TAX PLANNING FOR 2014
Taxpayers are faced with unique opportunities and challenges in today's uncertain legislative environment. Year-end tax planning is especially challenging in 2014, as Congress has yet to act on a host of tax breaks that expired at the end of 2013.
This special report describes the moves to make by year-end to achieve maximum overall tax savings for 2014 and later tax years. It explains how to set basic planning goals and how to adjust income and expenses accordingly, including two checklists that detail actions that can cut taxes — one for individuals and another for businesses and business owners.
Request Special Report: Year-End Tax Planning for 2014
(All fields required)
---
---
» NOTE:By clicking "Submit," you agree to be contacted in order to help with your inquiry.
RELATED CPE ONLINE COURSES
---
CPE Credits: 10 | Price: $140.00 or or FREE with Premier Plus*
CPE Credits: 6 | Price: $96.00 or or FREE with Premier or Premier Plus*
CPE Credits: 7 | Price: $112.00 or FREE with Premier or Premier Plus*
CPE Credits: 7 | Price: $112.00 or or FREE with Premier or Premier Plus*
---
TAX PLANNING MARKETING SOLUTION
Position your firm as a thought leader, encourage contact for tax services and develop more profitable client relationships with this proven content marketing solution. Thomson Reuter's client tax planning guide is available in online (website), email, PDF, print and PowerPoint® seminar formats to maximize reach, impact and cost-effectiveness. It features engaging content, brand-enhancing design and areas to personalize with your logo and contact information.
TAX PLANNING RESOURCE
Planner CS makes it easy to add highly valued tax planning to your array of services. Today, clients need your help more than ever to ensure that they're fully prepared for the impact of changing tax laws. Planner CS is continuously updated throughout the year as new laws and regulations are enacted that affect your clients' tax situations.
RELATED GUIDANCE

Tax Saving Moves For The Rest of 2014
The Tax Planning & Practice Guide (TPPG) "Tax Saving Moves for the Rest of 2014" contains year-end tax planning tips that highlight the unique opportunities and challenges faced by taxpayers in today's uncertain legislative environment. *This guide is included with selected federal tax research libraries on Checkpoint. Contact your Account Manager for details.
---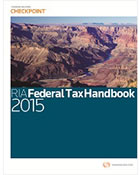 Designed to provide quick and easy access to critical tax questions, the RIA Federal Tax Handbook offers comprehensive, insightful guidance on federal tax law, including the latest regulations, rulings, and revenue procedures as well as precise explanations about changes that could impact your business or your clients.
---

Designed to help you answer your clients' federal tax questions, Tax Desk provides a wealth of useful definitions, cautions, illustrations, recommendations and observations in clear business language, with a unique, practice-oriented focus.
---

Designed to provide complete and thorough answers to all your clients' federal tax questions, the Federal Tax Coordinator 2d offers a detailed and comprehensive analysis of all Federal tax laws, regulations, relevant court cases, and IRS rulings and releases. The expert analysis is supported by extensive and detailed citations to controlling authorities.
---
Already a Customer?