Free 1040 Checklist — Affordable Care Act Requirements
How to Determine Minimum Essential Health Insurance Coverage
The Affordable Care Act has introduced two new reporting requirements that will figure prominently on many 2014 Form 1040 returns: the premium tax credit and the individual shared responsibility penalty. These new requirements present new challenges for tax practitioners, as they must determine whether clients have qualifying health insurance or are eligible for an exemption from the mandate, calculate any penalties, and determine eligibility for the premium tax credit (including calculating and reconciling the amount of the credit with any advance payments received).
This free checklist from Thomson Reuters Checkpoint walks you through the questions to ask clients to determine if they had the required health insurance coverage during 2014 to avoid the individual shared responsibility penalty, or if they qualified for an exemption.
Request Free 1040 Checklist: How to Determine Minimum Essential Health Insurance Coverage
(All fields required)
---
---
» NOTE:By clicking "Submit," you agree to be contacted in order to help with your inquiry.
Related Guidance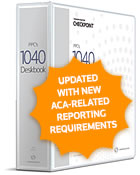 PPC's 1040 Deskbook has been the gold standard for preparing Form 1040 for the last 27 years. The Deskbook provides complete and easy-to-understand answers for solving real-life tax return preparation issues, addressing new 2014 health care reporting issues on Form 1040 in addition to all other 1040 compliance issues.
---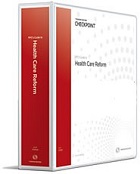 PPC's Guide to Health Care Reform
PPC's Guide to Health Care Reform is your go-to resource for guidance on understanding and implementing the Affordable Care Act provisions. The Guide includes detailed coverage of the individual mandate and the exemptions available for 2014, the premium tax credit, and the small employer health insurance credit, as well as comprehensive examples, worksheets, and completed IRS forms to assist practitioners with compliance.
---
Already a Customer?