Do you want your business to be found more easily in local search results? Here's a 4-step guide to improving your local SEO (search engine optimization), both on your website and elsewhere online.
When someone needs help with taxes or accounting and they don't already have an accountant, what do they do? Do they open the phone book? Maybe, if they're still living in the 20th century. Today, it's far more likely they'll turn to a search engine like Google, or perhaps ask Siri or Alexa.
The results they find are increasingly customized, based on factors including location. Try a Google search for "accountant near me" and you'll probably see results similar to the image below.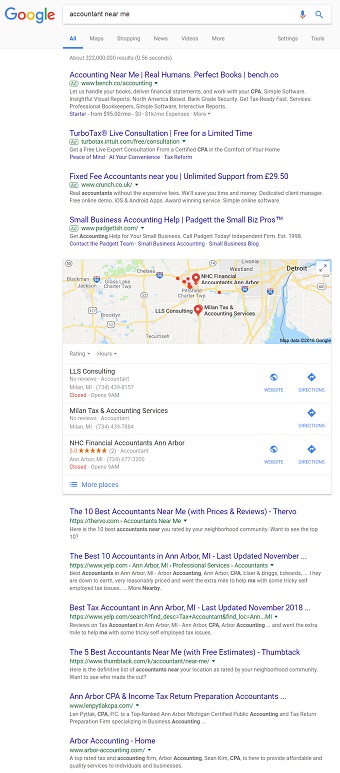 Let's break that down.
The first few results are often ads, placed there by businesses using Google Ads to appear whenever someone searches for "accountant near me". This is unrelated to SEO and is more commonly known as SEM (search engine marketing). That's a fast way to the top of the results, but it's not free.
Next, you might see a map of the local area, providing Google knows your location, with some local accountants pinpointed. Is your business showing in your own search results? If not, I'll explain how to change that in this article.
After that, you'll usually see 'organic results', i.e., links to web pages that Google considers most likely to satisfy searchers seeking an accountant in the area. You'll want your business to show up at the top of these results, too.
Note though that the first few organic results are not necessarily accounting firm websites. In this example, you'll see links to lists of accounting firms. You will also want to be included on those lists.
All of this takes time, so if your business is difficult to find in search results, it's important to start addressing the problem now so your next generation of clients can find you during tax season. So, let's get started!
Local SEO for Accountants: Your Step-by-Step Guide
In this article, we'll focus on your top four initial considerations. For maximum effect, be sure to complete all four steps, as the cumulative effect will be greater than if you just complete a couple of the steps.
Before we begin, take a moment to decide exactly what your business's contact details are. It's critical to be consistent about these throughout every step below. If you ever use slightly different names when referring to your business (e.g., "Smith and Jones Accounting", "Smith & Jones, CPA", "Smith & Jones, LLC") or hand out addresses or phone numbers that aren't completely identical in every respect, now's the time to decide exactly what those should officially be going forward. If you don't do this, you'll complicate things for search engines and other influential websites, and potentially give your competitors an advantage.
Open up a document right now and type in the following items, so you can easily copy and paste them whenever you need them throughout this process. This will ensure 100% consistency.
The name of your business
The full address of your business, including zip code
The primary telephone number of your business, including area code
OK, here's the first step…
Set up a high-quality Google My Business profile

If you haven't already signed up for a Google My Business profile, do it now. No small business should be without one.
As you create your profile, be sure to provide the exact business name, address, and telephone number discussed above.
When asked to categorize your business, choose the best possible category. If your business is solely focused on tax preparation, a tax-related category may be appropriate. If not, consider a category such as "accounting firm" instead.
You'll also be asked to enter the URL (address) of your business's website. If your business still doesn't have a website, it's time to remedy that!

At this stage of the profile setup, Google will offer you the chance to get a free website. This may sound attractive, but this option may or may not give you the level of control you need. If you want to explore other options first, one alternative would be website development and hosting with Web Builder CS, a Thomson Reuters solution designed for accountants.

Finally, be sure to verify your listing for authenticity and authority.

Ensure your website has highly relevant content

Google needs assurances that your business is the same business you described in your Google My Business profile. This means your website needs information to confirm it is, for instance, an accounting firm, or whatever you chose when categorizing your business. If your website doesn't already have an "About Us" type of page (example) to describe what your business is and does, it's time to add one.
Check your site uses the exact same business name, address, and phone number throughout. The easiest way to ensure this is to always place these details at the end of every page in your website 'footer'. This leaves search engines in no doubt about this information. Just check your site doesn't offer alternative versions of your business name, address, or phone number on any page.
To further support your business description – and to potentially attract more searchers – consider developing separate web pages to explain each of your services, e.g., tax preparation for individuals, auditing, and so on. These will help if someone in the local area needs one of those services and chooses to search for, say, "accountant who does taxes" or "local auditor". Dedicated pages make it easier for search engines to feel confident about ranking your website higher for those services.
It's helpful to also look at the relevant keywords (search queries) people use in your area. If your business can offer the help that local people are seeking, make it easy for them to find you by writing about it on your website. Maybe one of your lesser-known specialty services is in higher demand than you realize. Or perhaps there is demand for a service you don't yet offer, and possibly should?
If you plan to support your SEO efforts with paid ads in Google search results, Google will let you use a free Keyword Planner tool as part of Google Ads (requires registration). Its official purpose is to aid keyword research for advertising campaigns, but you'll find it useful for checking how often keywords are sought locally when you filter data to show only your city and nearby cities. You can also see how frequently keywords are sought from month to month, as that can vary greatly.
If you don't plan to run search ads, there are other tools that perform similar functions. This guide by SEO experts Moz is a good place to begin.
If you want to check how your competitors rank for any given keyword, use iSearchFrom.com and enter your country/city to see non-personalized results for that location. Your regular Google results will generally be personalized; this tool offers a more unbiased view of how the competition shows up in local search results.
Once you've decided on the most important keywords to target, document which of your web pages should be 'optimized' for each keyword. These might be existing pages or brand new pages you add specifically to target certain keywords. Documentation is important here, so you can avoid accidentally undoing your optimization work next time you update any of the pages.
As you edit or create each page, be sure to include the page's keyword in the main heading and—if you have control over it—the HTML title tag, at a minimum. Search engines look at these items to understand what a web page is about. So, if you want to show up in searches for "Springfield accountants", you might use a page heading of "Springfield Accountants You Can Trust" as a way to incorporate your target keyword into that heading.

List your business name, address, and phone number consistently across the internet

Search engines look to authoritative directory websites like Yelp and Yellow Pages to confirm details about your business. Here's where you need to be certain that you use the exact same business name, address, and telephone number in listings on all the important sites of this type.
Get your business listed for free by submitting information to all of the following sites. Note that some may encourage you to pay for listings, but that should not be necessary.
If you already have your business listed on any of these sites, do check they use the exact business name, address, and telephone number as you list on your own website. If not, you should be able to update the details.
Also, if your business has a company page on Facebook, LinkedIn, or Twitter, check that your business name, address, and telephone number are also listed consistently on those, too.
The final step here is to look up your business on Moz.com/local/search. Confirm that your listings are verified, identify duplicates, get a score, and recommendations.

Seek great links and reviews

While it's important to be listed correctly on all the important directory websites, that's really just the bare minimum in terms of an online presence for your business. This alone won't set you apart from your competitors.
Search engines look for further evidence that your accounting business is the best in town. When other sites link to yours, that's generally a good signal to search engines. What local organizations could link to your site? Do any of your business colleagues in different fields link from their own websites to yours? If you have relationships with other businesses, talk to them about reciprocal links between websites. If your site links to their site, that helps them, just the same as a link from their site to yours.
Are your clients posting great reviews for your accounting firm on sites like Google, Yelp, and so on? If not, ask them to help support your business by taking two minutes to leave great feedback. Google loves reviews because searchers love reviews.

Make it easy for your clients to leave feedback by sending them direct links to the appropriate web pages.
For instance, once your business has a Google My Business profile, search Google for the name of your business and click the "Write a Review" button. Then, send clients the URL of the page you arrive at.
Also, look up your profile on Yelp and send clients the link to leave feedback for your business there, as Yelp is another important source of reviews.
Of course, if you have any dissatisfied clients, avoid asking them to write a review!

Consider asking clients and business colleagues to share links to your site on social media. A favorable mention for your business in this way is as effective as any traditional word-of-mouth recommendation and makes it easy for referrals to contact you. Even a rating on your Facebook page helps. These recommendations send positive signals to search engines.
Over time, as you collect more links and more great reviews, your online reputation will grow stronger, which in turn will help you get more clicks not just from search results but also from other sources.
Monitoring the Results of Your SEO Efforts
Once you've completed all the items above, no doubt you'll want to see the results. SEO doesn't happen overnight, so it may be a month or two before you start to see a noticeable improvement in your search visibility. Also, bear in mind that your competitors may also be upping their SEO game at the same time.
Perhaps the easiest way to check local, non-personalized rankings for a keyword at first is to return to iSearchFrom.com and search for that keyword in your city or nearby cities.
But in the long term, I recommend setting up a Google Search Console account for your website. If you don't already have Google Analytics on your website, implement it for greater insights into how your site is performing, and connect it to your Google Search Console account. Both are completely free to use and essential if you're serious about the success of your website.
Google Search Console will show you which search queries are resulting in visits to your site and how your site currently ranks on average for each of those keywords. It can also notify you if there are any technical problems with the site that could harm your SEO efforts, such as broken links.
Google Analytics will tell you how often each page is visited on your site, how long visitors spend on each page, and so on. If you have a site search function on your own site, you can even see what people are searching for during their visit, and whether or not they are finding what they're looking for. If they are failing to find certain information on a regular basis, perhaps your site should offer that information.
Next Steps—and Beyond SEO
This article covers the just high-level basics to help accountants get started with SEO. But if you want to dive deeper, there's a whole lot more to discover. When you're ready, take a look at the free SEO 101 e-book offered by Search Engine Journal, a popular destination for SEO professionals, which will explain other important technical aspects of SEO, such as sitemaps, backlinks, etc.
And, while search is undoubtedly the most important online channel through which you'll find new business, your marketing efforts need not stop there. If you're looking for other ways to grow your business, take a look at the many Thomson Reuters marketing solutions for accounting firms covering social media, email newsletters, and much more. With the right marketing, your tax and accounting business can grow to become as big as you want it to be!
Facebook
Twitter
Linkedin