A new era for global trade management software

Simplify your entire global trade management process with trade compliance information and facilitation tools that automate routine tasks, give you compliance confidence, and save time.

What can ONESOURCE Global Trade do for you?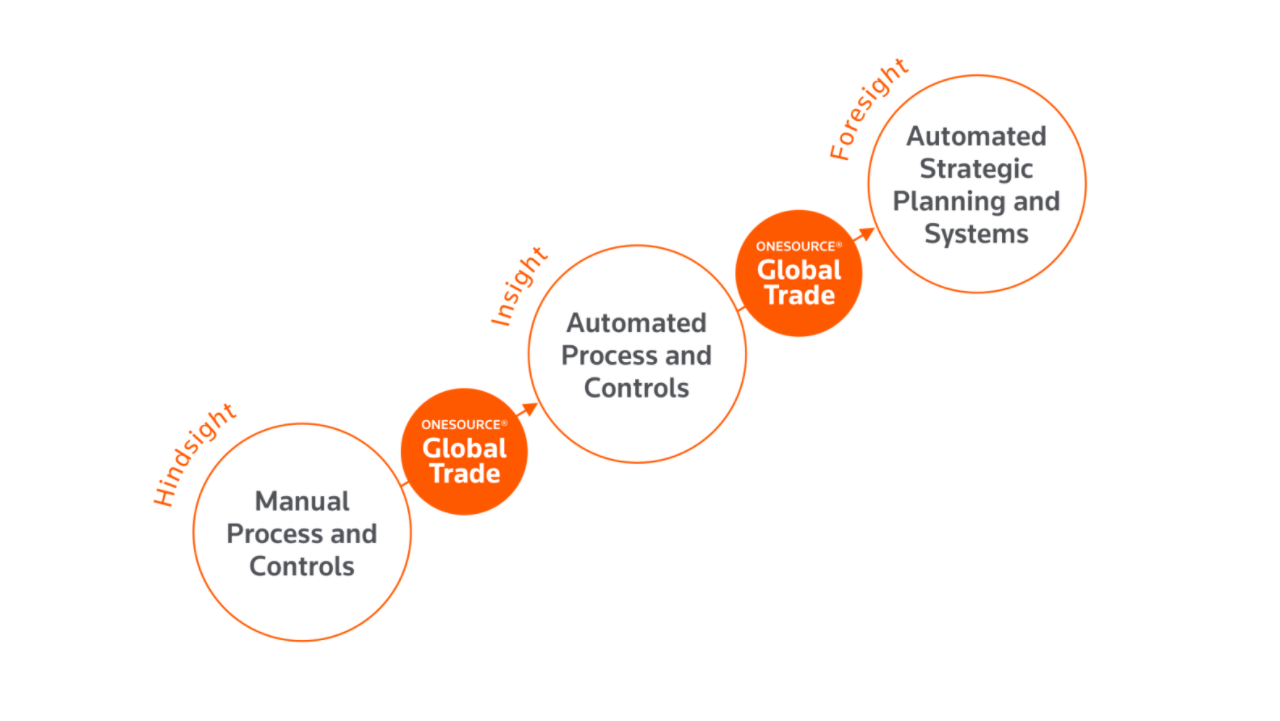 ONESOURCE Global Trade solutions for all levels of automation
Many companies begin operating with manual process and controls, leaving them vulnerable to supply chain risk and little time to strategize. Improve supply chain efficiency and save time by automating your company's import and export operations.
Current global trade challenges

ONESOURCE Global Trade helps customers thrive through global trade challenges. Manage risk to stay ahead of constant global regulatory changes impacting the supply chain. Minimize risks and penalties by automating key import and export tasks, and improve the accuracy and timeliness of trade compliance.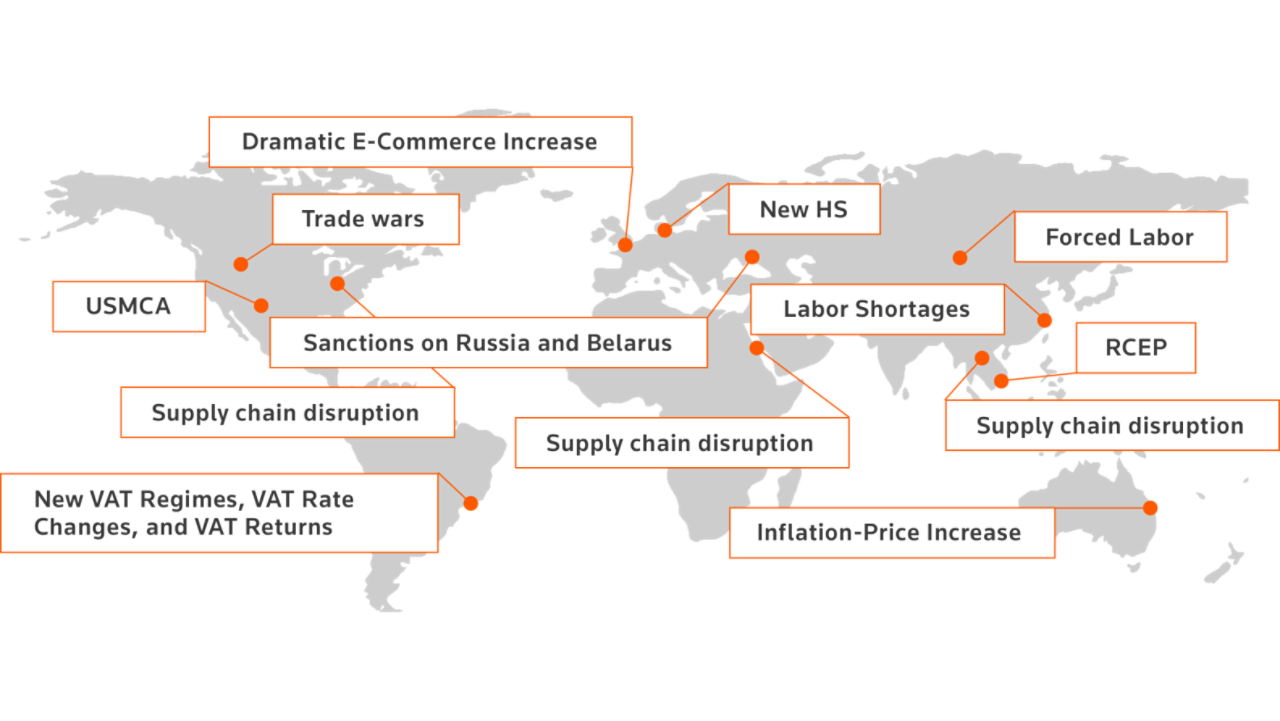 Most used ONESOURCE Global Trade products by industry

Pharmaceuticals and life sciences

"The biggest benefit for the ONESOURCE solution is the integration of the different modules. What I'm challenged and tasked with doing is pulling together all of the trade related information from across the portfolio." 
Director of Global Trade Development, Huber
ONESOURCE Global Trade solutions at a glance

The ONESOURCE Global Trade (GTM) suite helps trade professionals ensure world-wide trade compliance, plan and automate global trade operations, and manage programs that reduce the cost of goods sold. ONESOURCE GTM provides comprehensive regulatory content, strengthens the supply chain ecosystem and improves visibility to mitigate supply chain risk.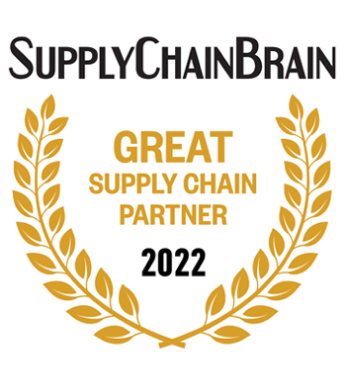 Thomson Reuters recognized as a Great Supply Chain Partner for providing outstanding solutions and services
Frequently asked questions

What features and benefits should you seek when selecting a global trade management solution?

When choosing global trade management software, a company should look for a solution that will simplify the entire import/export process. It's important to find an end-to-end solution that helps you stay compliant, mitigate risk, improve supply chain efficiency, and save on duty all while providing the regulatory information you need to make smart decisions. 
How can free trade agreements help you maximize duty savings in your supply chain design?

Although overlooked at times, free trade agreements (FTAs) are an area of both potential duty savings and sourcing stability. FTAs allow goods to move between countries at preferential duty rates and create a more favorable trade environment for participation in the global marketplace. ONESOURCE Free Trade Agreement (FTA) Management helps companies identify opportunities to qualify their goods under FTA-specific rules of origin and reduce supply chain costs by taking advantage of preferential duty rates under FTAs.  
What are the potential consequences if a company does not screen its supply chain partners?

There are several consequences if a company does not screen its supply chain partners. These include doing business with a banned entity, which would cause financial and reputational harm to the company, as well as cause increased scrutiny by the governing agency. 
Does ONESOURCE Global Trade address sanctions imposed on Russia and Belarus?

Yes, with ONESOURCE Denied Party Screening, you can maintain compliance and mitigate risk across global operations by screening customers and supply chain partners against hundreds of global lists for restricted persons, companies, and sanctioned or embargoed countries, as well as lists from our partners, including Sanction Ownership Research, Adverse Media Entity Lists and Politically Exposed Persons.  Leverage the power of our global researchers who have added more than 25,000 entities on DPS lists since the additional sanctions were leveraged on Russia and Belarus.
What benefits should a solution that mitigates supply chain risk provide?

A solution that helps mitigate supply chain risk should automatically screen vendors against global denied party lists, reduce the time required to compile and score vendor risk assessments, and provide visibility into supply chain using dashboard metrics. 

Programs such, ES&G concerns such as Forced Labor, Conflict Minerals, Product Safety, and the Lacey Act require due diligence and information.  

Thomson Reuters ONESOURCE Supply Chain Compliance ensures that you partner with companies that meet your organization's code of conduct by automating the time-consuming process of vendor risk assessment for programs such as CTPAT and AEO, human rights concerns such as forced labor, and other supply chain issues such as conflict minerals, product safety and the US Lacey Act.
How can you obtain the most up to date global trade regulatory content?

Access the most comprehensive repository of global trade content covering regulatory controls, tariff schedules, and trade-related data to power a company's supply chain operations with Thomson Reuters ONESOURCE Global Trade Content.  Rely on a team of global researchers that cover regulatory content for more than 215 countries and territories. 
Is there a way to optimize HS and ECN classification?

Yes, with ONESOURCE Smart ECN, part of our Export Management solution, you can simplify export classification using three unique mapping capabilities, including search by description, benchmark against similar products, or correlation against HS to ECN table. ONESOURCE Smart ECN can help you reduce the risk of misclassification that can lead to costly penalties.  

Smart HS classification, part of Global Classification, leverages AI and NLP in its search feature, (rather than the outdated keyword search,) to optimize the speed and accuracy of import classifications. In a World Customs Organization HS Classification competition, classifiers using the search technology within Smart HS attained a 93% classification accuracy compared to 68% by private sector experts.  It enables you to provide certain unique information such as product attributes, weights, measures, trademarks, and CAS number etc., and automatically compares them with the WCO HS database of 5000+ products to accurately link the product to its correct HS number, saving hours of manual research.
Questions about our Global Trade solutions? We're here to support you.
Call us or submit your email, and a sales representative will contact you within one business day. 

Request your free demo today
Request free demo