Confidently complete Single Audits with ease
Overcome the complex, challenging, and ever-changing Single Audit requirements with Checkpoint® Engage Single Audit, a cloud-based application that guides you through an automated process. Being part of the Checkpoint Engage family of products provides a seamless experience with your financial statement audit fieldwork for: local governments, nonprofits, school districts, and HUD engagements, along with the other Thomson Reuters® Cloud Audit Suite applications including AdvanceFlow and Confirmation. Now you can complete all of your audits from a single platform.
Only Checkpoint Engage Single Audit is embedded with the Office of Management & Budget's (OMB) Uniform Guidance and Compliance Supplement requirements and backed by an in-house team of expert CPAs and nationally recognized external authors that leverage prior-year inputs while directing you to comply with current standards.
A modern way to complete Single Audits
Compiles data needed for Schedule of Expenditures of Federal Awards (SEFA) report
Automates the process of identifying major programs and provides step by step guidance
Allows multiple staff to collaborate in the same engagement at the same time with real time updates
Embedded with the current OMB Uniform Guidance and Compliance Supplement requirements
Tracks and stores awards and expenditures, plus the last time a program was audited as major
Delivers the flexibility to work from anywhere and complete audits online — from one platform
Checkpoint Engage Single Audit
Voted 2023 Top New Product by Accounting Today

---
Save time with a cloud-based solution
Checkpoint Engage Single Audits provides a guided process and detailed assistance to confidently complete Single Audits faster. Take a look at the new experience.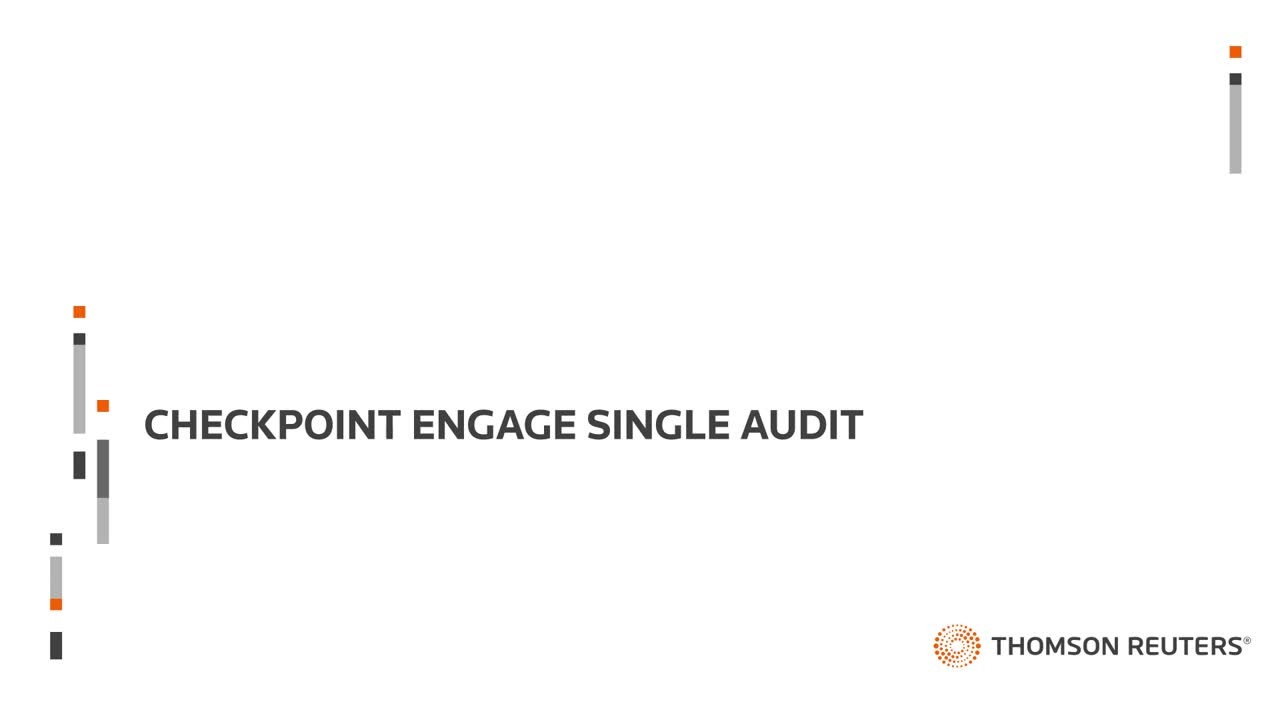 08:00
Comprehensive, guided process
Enable Single Audit on an existing Engagement
Create a Single Audit only Engagement
Review filter questions based on Single Audit selection
Set up Single Audit based on automatically suggested compliance supplement
Get a snapshot of all the awards and expenditures needed to generate the SEFA report.
Add federal awards for programs and clusters
Edit or delete awards
Track the entire Single Audit workflow
Export the entire form to PDF
Single Audit creates individual risk assessment forms in AdvanceFlow for Type A and Type B programs, plus:
Automatically calculates the Type A threshold
Determines Type A and Type B programs based on the expenditures and award type
Assesses the risk of Type A programs to determine if the programs is major and tracks the coverage
Provides a counter that shows how many Type B programs need to be assessed as high risk to meet the required coverage
Ensure the form can be edited by only one user at a time with a multi-user lock
Track the sign off progress
Edit sign offs using the tool bar menu option
Add the Workpaper reference for easy access
Leave a reviewer comment for colleagues
Monitor error messages
Ready to complete your Single Audits with ease?
Submit this form and someone from our sales team will get back to you — or call a representative at 800.968.8900
Requirements for auditors of for-profit recipients of HHS COVID-19 relief funding
Learn how to use Thomson Reuters resources to meet the HHS compliance audit requirements