Thomson Reuters Audit Summit conference for accounting professionals

Audit Summit 2019
Propel your continuous audit evolution
Join us for Audit Summit 2019
Adapting to change to advance your standing is a challenge every business must plan for. Transforming in the scope of rapid change is a challenge not every industry survives.
Change isn't coming to the tax, audit, and accounting industry — it's here. Regulatory reform, a shrinking talent pool, and the commoditization of traditional revenue streams has placed the audit practice at high risk. Relying on traditional means of stabilization and growth through client and talent acquisition and waiting on a technology platform to address these problems will only get you so far.
What if you didn't have to wait for the future of audit to arrive? What if you could transform your audit practice today?
Join experts from Thomson Reuters, Boomer Consulting, Inc., and Inflo for this exclusive audit conference centered around creating a strategy to shift from seasonal audit activity to continuous audit processes. Topics covered include:
• Upskilling your talent game
• Implementing new processes with a high impact IQ
• Building out your service portfolios
• Transforming your way of working
You'll leave the summit with an executable transformation plan to impact your firm's profitability through automation, client intelligence, and a new way of working.
September 19-20
Denver, CO
DoubleTree by Hilton Denver
Your registration fee of $995 per person covers two days of learning, discussion, collaboration, and consultation that you won't want to miss.
Here's what's included:
• Informative and interactive sessions with featured presenters
• All presentation materials and handouts
• Executable action items to build an effective transformation plan
• Access to an audit support system after the event
• Up to 12 CPE credits*
• Dining, social events, and networking
• Two breakfasts and two lunches
• Cocktails and hors d'oeuvres
Please note: Your hotel room is at your own expense.
Participants will have the opportunity to earn up to 12 CPE credits*
8:00 - 9:00 a.m.

Breakfast
9:00 a.m. - noon

Morning Sessions
Summit Kick-Off
The Future is Here
Noon - 1:00 p.m.

Lunch
1:00 - 5:00 p.m.

Afternoon Sessions
Upskilling Your Talent Game
Mastering Your Process Effectiveness
Day 1 Recap
5:00 - 6:30 p.m.
Cocktails and Hors D'oeuvres
Summit Kick-Off
Buckle-up, you're in for a Continuous Audit Evolution ride. Beyond the antiquated theory of robotic monitoring of transactions is a modern-day transformation of the audit practice. To get there now, Keith and Teresa will set the stage on how these two days will propel a learning experience into an executable plan you need for your firm to succeed.
The Future Is Here
Maintaining status quo while waiting for the future to arrive will only leave you behind when it matters most. To help you prepare to adapt quickly to the change required to move your audit practice forward, Sandra and Mark will focus on how to create your vision. Thus, begins your business transformation journey.

Upskilling Your Talent Game
What does a Firm of the Future look like? Beyond legacy HR principals is a firm ready to operationalize viewing its workforce as its most valuable asset. To help you win at the talent war, Sandra will focus on the new rules of engagement critical to not only recruiting but nurturing your People to maximize your employee engagement and guide you through the build out of a talent plan.

Mastering Your Process Effectiveness
How does your Process Impact IQ measure up? While building efficiencies into your internal processes is important its not to be confused with effectiveness. To help you navigate the differences, Arianna will focus on when processes should look to be optimized vs. transformed and guide you through creating a framework for change.

8:00 - 9:00 a.m.

Breakfast

9:00 a.m. - noon

Morning sessions
Day 2 Kick-Off
Expanding Your Service Portfolio
Noon - 1:00 p.m.

Lunch
1:00 - 3:00 p.m.

Afternoon sessions
Business Transformation
Summit Wrap-up
3:00 p.m.

Departures

Expanding Your Service Portfolios
You're building effective processes and a strong team for the future. How do you capitalize on increased efficiency and capability? To help you develop your consultant capabilities, Mark and Evan will focus on providing visibility into your clients risks and opportunities via your data assets, opening the door for you to cross-sell, up-sell, and identify new revenue streams for your business.
Business Transformation
After working through establishing your Why, What, and How, it's time to act. Keith and Arianna will focus on what true business transformation looks and feels like, why it is essential for success, and help you develop your action plan to take the journey.
Audit Summit 2019 presenters
Keith James is a General Manager for Tax Professionals at Thomson Reuters with over 20 years of global experience leading top-performing sales, marketing, product, and operations teams.
He joined Thomson Reuters in 2017 as the Head of Sales for Knowledge Solutions.
Prior to joining Thomson Reuters, Keith served as CEO of AccessData, where he helped re-focus the company on its core products and markets to drive double-digit growth. He has also held various sales roles at LexisNexis, where he set and achieved high goals for employee engagement, performance against quota, and strategies to counteract increased competition.
Teresa Loccisano is a Customer Proposition Lead for Tax Professionals at Thomson Reuters with a passion for business transformation through storytelling. Her expertise is in developing growth strategies by implementing a process for a business to re-think the big picture while simultaneously focusing on the details required to execute a premier customer experience. Her team is focused on capturing customer business needs, end user workflow needs, and the market's changing needs to serve the industry to serve as the voice of the customer internally at Thomson Reuters and help focus each function's priorities.
She joined Thomson Reuters in the Fall of 2017 as the Director of GTM Sales and Retention for Knowledge Solutions.

Prior to joining Thomson Reuters, Teresa served as the Vice President of Strategic Planning at AccessData where she led efforts to create and implement sustainable business and GTM processes to accelerate performance. She has also held various sales and strategy roles spanning content, technology, and managed services at both AccessData and LexisNexis with a track record of delivering double digit growth in competitive market.

Mark Miklosovic is a Customer Proposition Strategy Lead for Tax Professionals at Thomson Reuters responsible for defining strategic priorities to drive growth, create value propositions, and Go-To-Market plans. In addition, Mark evaluates strategic opportunities for innovation and portfolio investment across the Thomson Reuters platform.
Prior to joining Thomson Reuters, Mark served as strategy manager for an automotive manufacturing firm and was responsible for process management and maximizing growth in a highly competitive environment. His career as a CPA began with Rehmann, a top 100 firm based in Michigan, where he specialized in assurance and business consulting work for a diverse array of clients and industries. He also served as a member of the firm's Emerging Technology team evaluating technologies for internal and client-facing initiatives.
Mark is a member of the American Institute of Certified Public Accountants, the Michigan Institute of Certified Public Accountants, and holds a Bachelor of Science in Accounting from Metropolitan State University of St. Paul, MN.
Sandra Wiley, President of Boomer Consulting, Inc., is a leader in the accounting profession with a passion for helping firms grow, adapt and thrive. She is regularly recognized by Accounting Today as one of the 100 Most Influential People in Accounting as a result of her expertise in leadership, management, collaboration, culture building, talent, and training.
Sandra developed the P3 Leadership Academy and hosts regional training sessions throughout the country. She is also a founding member of The CPA Consultant's Alliance and a certified Kolbe™ trainer, advising firms on building balanced teams, managing employee conflict, and hiring staff.
Sandra's role at Boomer Consulting, Inc. includes serving as co-director of the P3 Leadership Academy as well as the Boomer Managing Partner Circle™, the Boomer Talent Circle and the Boomer NextGen Leader Circle. Her years of experience and influence as a management and strategic planning consultant make her a sought-after resource among the best and brightest firms in the country.
As a director for Boomer Consulting, Inc., Arianna Campbell helps accounting firms challenge the status quo by leading process improvement initiatives that result in increased profitability and client satisfaction. She also facilitates the development and cultivation of future firm leaders in the P3 Leadership Academy.
Arianna excels in managing large volumes of information and prioritizing the most essential outcomes. She is a gifted problem-solver who can rescue a project at any point in its duration. Her communication style makes her an ideal facilitator to help reach the best desired outcomes by listening carefully and offering thoughtful ideas to improve processes and programs.
Arianna's experience includes an array of strategic as well as managerial engagements. As Media Planner for a major, Mid-Atlantic advertising firm, Arianna had oversight for strategic planning, marketing and overall client service. In this role she served a diverse array of notable clients including Georgia-Pacific Building Products, North Carolina Travel and Tourism and Cargill Industries. At every stop in her career Arianna has amassed expertise in strategic enterprise operations and offers critical skills for Boomer Consulting, Inc.'s mission to make their clients successful and future ready.
As the Customer Experience Director — Americas at Inflo, Evan DeFord specializes in educating client firms and their teams about deploying Inflo in real world accounting scenarios.
Before joining Inflo, Evan spent ten years providing attestation services to both public and private clients at Grant Thornton. He was also part of the National Office, where he supported the firm's Audit Data Analytics group and worked with the Audit Methodology and Audit Risk Management groups to improve the effectiveness, efficiency, and value of the firm's risk analysis and audit execution.
Evan has gained vast experience from being a representative on the Rutgers AICPA Data Analytics Research Initiative. He also contributed to the AICPA's Audit Data Analytics Guide Working Group and is a member of the AICPA's board of examiners. This provides him with the relevant context to ensure Inflo is aligned with auditing standards, firm methodologies and the skills CPAs require in the future.

Special discounted hotel rate
Staying onsite at the event hotel is an important part of the Audit Summit experience. Not only will you save time and eliminate hassles, but it's also a great way to take advantage of the opportunity to network with fellow Summit attendees. Plus, you'll benefit from our special group rates!**
To make your reservation, simply select "book your room" and follow the link to the hotel website.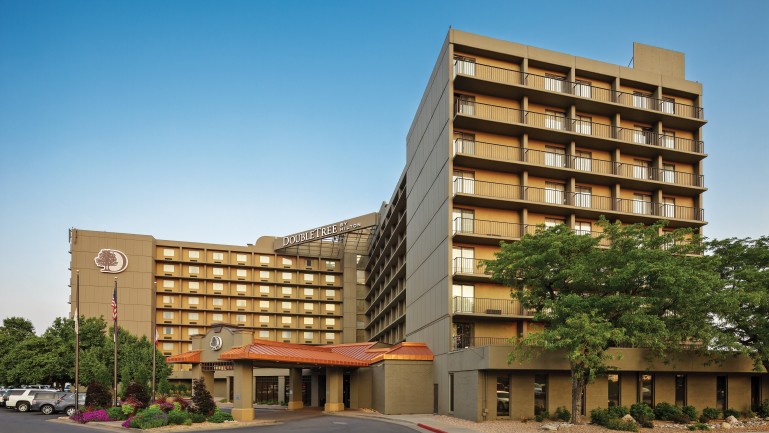 DoubleTree by Hilton Denver
3203 Quebec Street
Denver, CO 80207
Phone Reservations: 303-321-3333
Book your room for September 19-20*
Group room rate: $124/night
(Cutoff date: Tuesday August 20, 2019)
*CPE Credits: Thomson Reuters, Tax & Accounting, Professional Software & Services is registered with the National Association of State Boards of Accountancy (NASBA) as a sponsor of continuing professional education on the National Registry of CPE Sponsors. State boards of accountancy have final authority on the acceptance of individual courses for CPE credit. Complaints regarding registered sponsors may be addressed to the National Registry.

**Group rate is based on availability. To qualify for the group rate, your reservation must be booked in advance of the hotel cutoff date. you may be able to take advantage of our special rate three nights before and three nights after the event. By using the hotel link, your discount will be automatically applied to your reservation. If you make your reservation by phone, ask for the Thomson Reuters group rate.