Statutory reporting software | Thomson Reuters ONESOURCE

Statutory Reporting software
Global disclosure management software to standardize and automate global financial statement preparation
Why choose Statutory Reporting software
Filing statutory financial statements is a legal obligation in most countries around the world. Multinational corporations must prepare and file statutory financial statements quickly and accurately to comply with statutory reporting obligations across the globe. However, these ever-changing statutory regulations, policies and disclosures can vary widely from country to country. As a result, many worldwide companies do not to meet the annual filing requirements for each country which results in substantial fines. Valuable time is often wasted manually checking that every corporate financial report is correct, is submitted on time and meets the local statutory reporting compliance requirements.
Thomson Reuters ONESOURCE Statutory Reporting is leading cloud-based disclosure management software, helping you remain compliant in over 45 jurisdictions. A global platform that supports you locally, ONESOURCE Statutory Reporting software includes local language, country-specific reporting templates, and timely best-practice content updates from Big Four accounting firms and in-house content experts. Automate formatting and review processes and save time on tedious manual work. Create consistency across your process with centralized data capture and standardized sets of accounts, accessible from any location. ONESOURCE Statutory Reporting gives you flexibility with your operational delivery model whilst driving standardization, efficiency and control. We offer flexible support should you utilize a Shared Service Center or Center of Excellence, and our translation functionality enables your non-local language speakers to easily prepare financial statements in English.
Harness the power of cloud technology for statutory reporting, everywhere you operate
ONESOURCE Statutory Reporting lets you go beyond the here and now, bringing standardization, accuracy, and efficiency to your reporting obligations.
02:05
What you get with ONESOURCE Statutory Reporting Software
Access local language, best practice, country-specific reporting templates and content updates by leading experts.
Machine translation service allows for software and reports to be translated quickly and simply into English.
Save time with automatic updates using the power of cloud technology, and increase accuracy with automatic rounding, numbering, referencing, and roll-forward processes.
Load general ledger data in multiple formats, with audit trails for all sources, to make easy statutory adjustments.
Substantiate your reports with standard workpapers, providing a full audit trail.
Spend less time managing data and fixing errors. Enter data just once and see it flow automatically to all relevant reports.
See how one global comany automated their global financial reporting process
Pavlo Boyko, Global Accounting and Tax Solution Architect at TMF Group explains how the significant geographical coverage of ONESOURCE Statutory Reporting helps them meet the compliance requirements of their customers around the globe.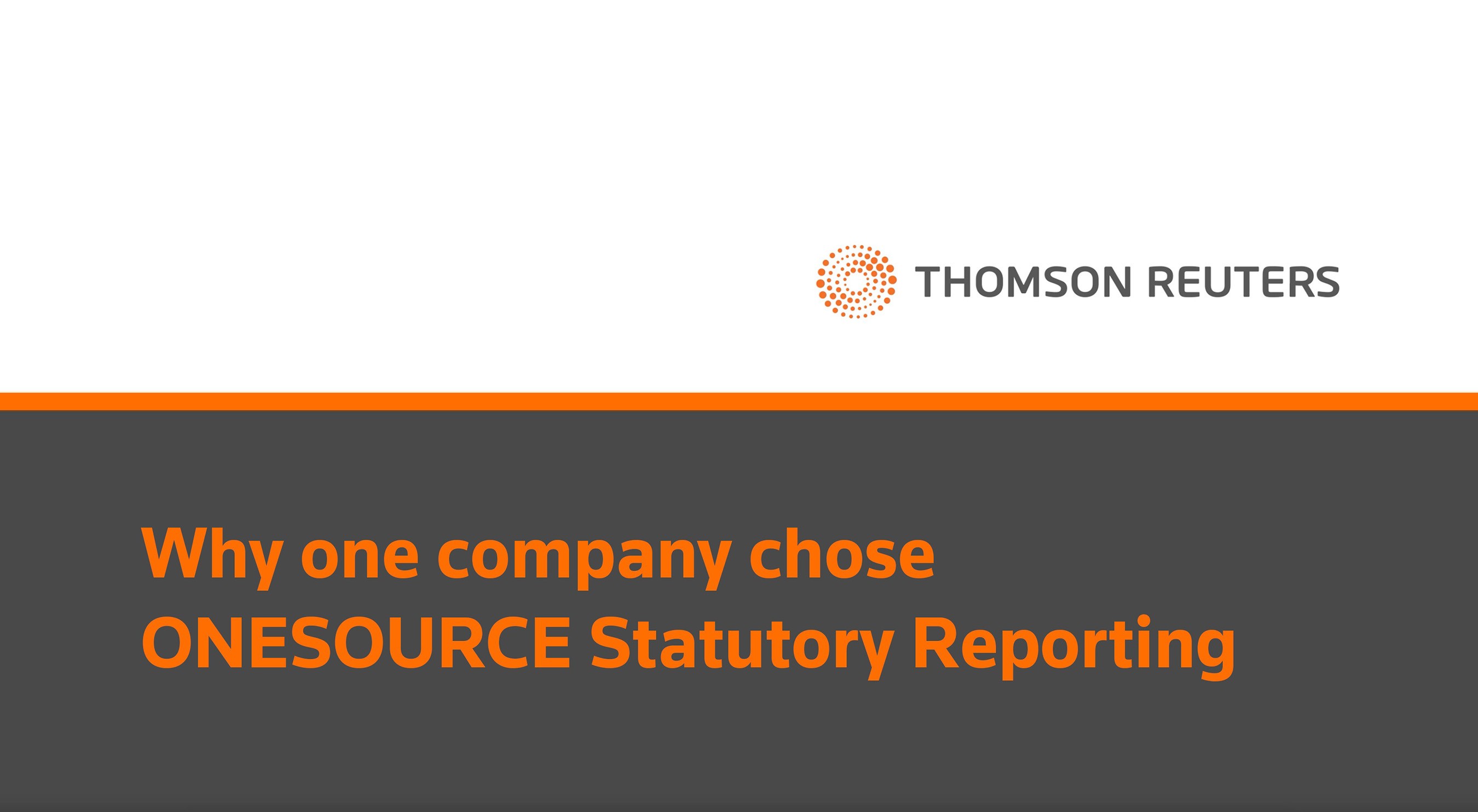 04:39
Statutory Reporting customers also buy these solutions    
Get everything you need to automate and streamline your compliance and reporting process, from planning and provisioning to filing and reporting.

Ready to start a conversation?
Need more information about how our solutions can work for you? Drop us a line and someone from our sales team will get back to you. Or you can call a representative in your region at:
Main phone:
+1 201 356 6409
EMEA phone:
+44 (0)207 375 6869
Australia/New Zealand Phone:
+1800 074 333