How ONESOURCE helps Trust Company of Oklahoma tackle tax season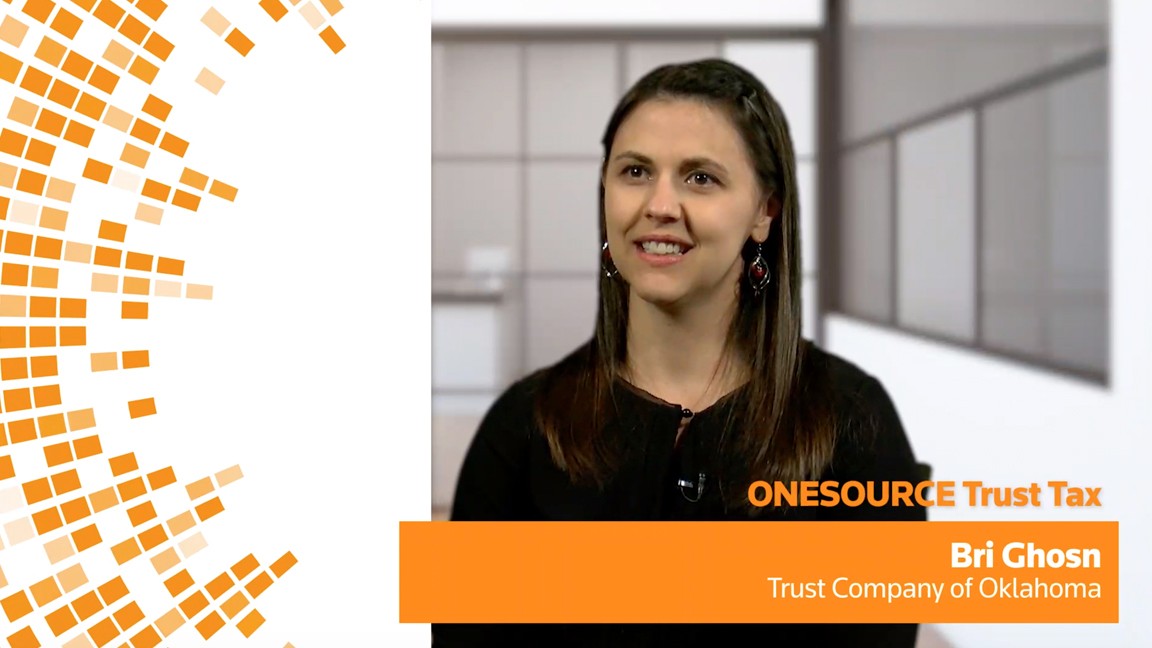 03:57
ONESOURCE helps Trust Co. save time, so it can serve its clients better
Trust Company of Oklahoma is the oldest and largest independent trust company in Oklahoma, providing clients with a wide range of wealth management and business planning services. Vice President Bri Ghosn heads Trust Company's trust tax department, which supports the company's approximately thirty trust officers and assistants.
Ghosn and her team use ONESOURCE Trust Tax, a software platform that automates the most time-consuming aspects of the trust accounting process. This streamlining of the tax preparation process allows trust officers and other fiduciaries to spend more time serving their clients' larger financial interests, rather than simply doing their paperwork.
ONESOURCE provides "tremendous time savings," says Ghosn. "That gives our administrators more time to spend with clients. If a client calls up on the phone, it also gives them the ability to instantly pull up their information and give them a status update instead of, 'I'll have to get back to you.'"
Tackling tax season
Ghosn's department prepares all of the firm's tax forms and tax returns, a task she says would be extremely challenging without the help of an automated solution like ONESOURCE Trust Tax.
For example, back when the firm's tax forms were handled manually, tax season used to be a "dreaded time of year," she says. "When we were paper-filing returns, each officer was responsible for their own returns. So there were boxes of paper being delivered, and [offices had to] go through them manually, sign them, get them in the mail. If there was a mistake, they'd have to send it back for corrections and get another copy printed out. It was just a long, time-consuming process for everyone."
Now, using Administrator Workstation, a Trust Tax add-on, forms can be reviewed "quickly, all the way across, down the line, down the grid, without having to have a physical copy in front of them," says Ghosn. "It's a completely different process."
Returns that used to be done manually are now stored, filed, and reviewed electronically, which saves the company an enormous amount of time. This year, using ONESOURCE, "any communication or correction was done electronically using registers and the Administration Workstation. So it was just seamless, and took very little time," says Ghosn.
Communication and flexibility
Having the ability to access client data on a centralized database also facilitates crucial communication channels between Ghosn's team and the trust officers and assistants they support. Now, she says, "we're able to easily communicate and stay on the same page, so there's no confusion over what status something is in."
ONESOURCE's flexibility in terms of integrating with other software platforms is another feature that Ghosn values. "One of our biggest needs is to be able to communicate with our trust accounting software," she says. Trust Co. uses the SEI Wealth Platform, an end-to-end platform designed specifically for wealth-management companies. But despite SEI's specialized nature, ONESOURCE integrates well with SEI, as it does with other Enterprise Resource Planning (ERP) systems. For Ghosn, communication between the two systems to "double-check" and "clean up communication" is crucial.
Bringing it in-house
Still, in order to meet its deadlines, Trust Co. leans heavily on outside accountants for help. Ghosn's plan for the future is to leverage ONESOURCE efficiencies to bring more of that work in-house.
"Last year, with our streamlined process and efficiency, we were able to increase our in-house returns by about 20 percent," she says. Her goal over the next two to three years is to bring a majority of the firm's tax-preparation work in-house.
"ONESOURCE has always been a great product for us," says Ghosn. Not only does it save time and help facilitate communication all around, she says, "it's integrated well with our software, and that's incredibly valuable."