Corporate Income Tax Software | Thomson Reuters ONESOURCE
Why choose Income Tax – United States
Managing countless tax forms manually isn't an option for large corporations, especially when they do business in many regions. That's why Thomson Reuters has designed the latest version of ONESOURCE Income Tax to provide you with comprehensive, centralized access to the entire ONESOURCE direct tax suite, including virtually every type of US tax return. Complete the right international, federal, state, and local returns more quickly, accurately, and securely. Filter tax return data in seconds, and drill down easily for incisive analysis. With our market-leading corporate income tax software, you can simplify tax compliance no matter how complex your situation.

Bring income tax compliance in house with our automated solution
ONESOURCE Income Tax has been the corporate income tax market leader for over 25 years because it delivers accurate and timely results that tax professionals trust most. With over 73,000 users and 2,350 corporate clients, 45% of all 1120 returns were E-filed through ONESOURCE*.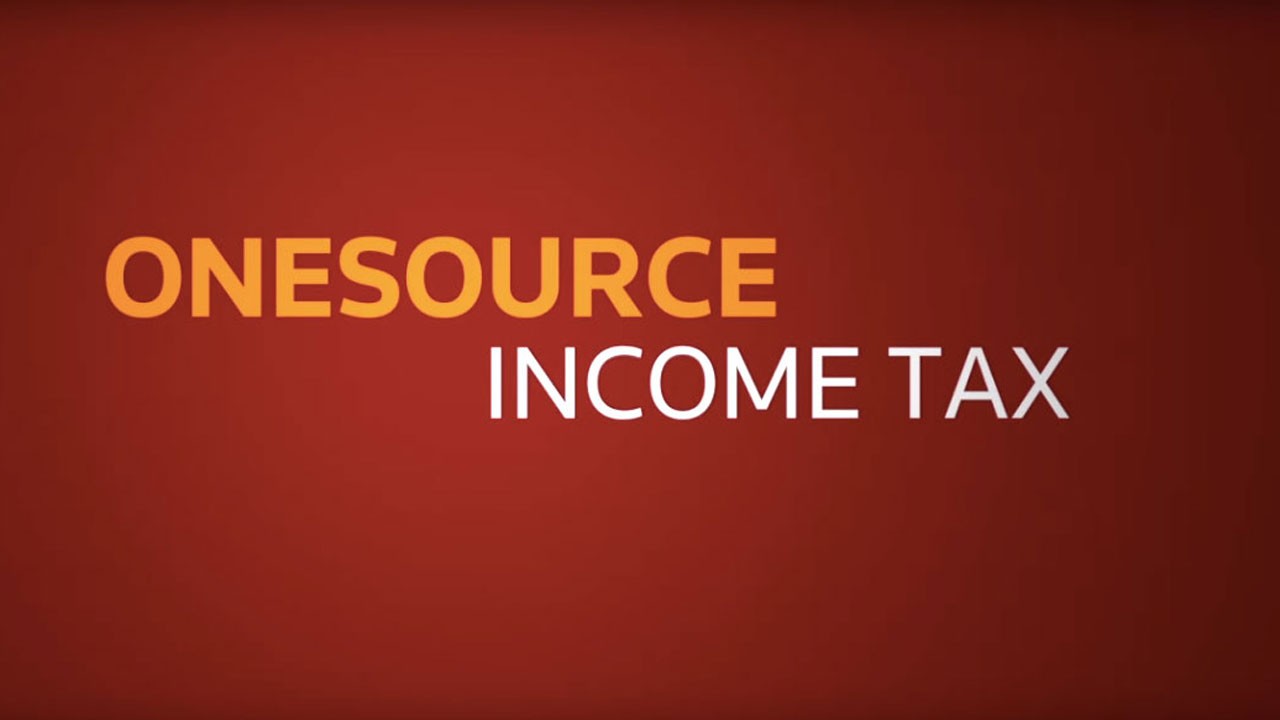 02:07
What you get with our corporate income tax software
Simplify calculation and reporting of foreign tax credits, earnings, profits, and deemed-paid credits.
Make research quick and efficient with a built-in, customizable tax law database. Assure compliance while providing a comprehensive tax accounting system for trial balance management.
File IRS returns and schedules electronically — and check their status from any mobile device.
Enter or update data only once and see it flow to all applications and returns, including ONESOURCE Tax Provision and the Estimated Payments module.
See what our customers are saying
ONESOURCE works for us because it makes our job easy. We're not answering questions all day, and we're not spending countless hours trying to file the return.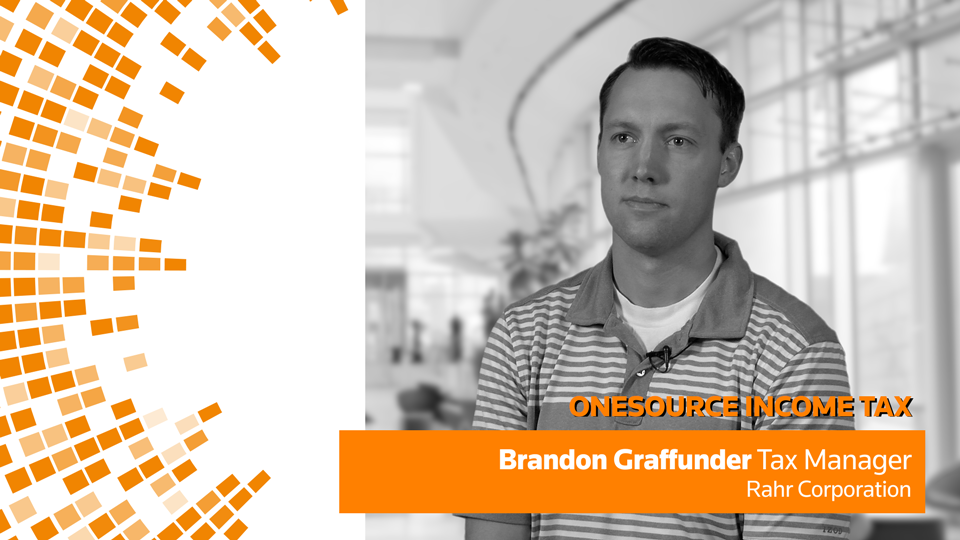 02:34
Learn why Rahr Corporation chose to bring returns in house with ONESOURCE Income Tax

The case for bringing compliance in house
Thinking about bringing income tax compliance in house? Whether you already have a tax professional on staff or are looking to make a new hire to fill this need, ONESOURCE Income Tax can help your company navigate income tax complexities with ease. We've helped customers address a wide range of concerns — from outsourcing pain points to hesitations on bringing tax work in house. Select a topic below to learn more about the support ONESOURCE Income Tax provides.
customers say
"The annual cost to my business for outsourcing our income tax compliance has become very expensive and increases every year — especially when other related services such as extensions, estimated payments, responses to notices, and audits are considered."
OUR ANSWER
Many companies have chosen to reduce their high cost of outsourcing by adopting ONESOURCE Income Tax as an in-house solution. For a fraction of the cost of outsourcing, you will have the market-leading income tax application that offers ease of use, powerful capabilities, and broad adoption by tax professionals including many of the largest accounting firms.
customers say
"I lack controls around my income tax process that prevent me from effectively considering the tax impact of tax planning and forecasting on strategic business decisions. I could accomplish this if I had adequate access to our current and historical tax data."
OUR ANSWER
Access to your tax data is critical to making decisions that consider the tax impact those decisions may have. When you bring your income tax return in house, you will have immediate access to a wealth of tax data within ONESOURCE Income Tax that supports your forecasting and modeling needs.
customers say
"My outsourcing firm frequently places a low priority on requests I make for assistance on important tax matters such as 1. Reviewing my income tax filings before they are submitted to the taxing authorities 2. Requests for supporting workpapers and other documents I need to explain and defend our prior year tax positions that are being reviewed or challenged under an audit."
OUR ANSWER
By bringing your income tax compliance in house, you gain significant control over your tax process, so you can review and sign off on tax milestones such as returns, extensions, and estimated payments as well as support audits in a timely manner.
customers say
"I spend a significant amount of time gathering financial and other data my outsourcing firm needs for the preparation of my federal and state income tax returns — such as trial balance amounts, state data, and details of financial transactions and tax attributes. Much of this time includes manually formatting and rolling up that data to fit their requirements."
OUR ANSWER
By using ONESOURCE Income Tax and the supporting ONESOURCE data management tools (such as Excel Workpaper integration), you will spend less time manually manipulating and preparing your data and more time analyzing results that can lead to faster insights about the tax impact on your business.
customers say
"One reason we outsource our tax return is to assign some of the risk associated with accuracy and timeliness of our income tax reporting to an outside firm. If I bring the return in-house, how much added risk does my company assume?"
OUR ANSWER
ONESOURCE Income Tax has been the corporate income tax market leader for over 25 years because it delivers accurate and timely results that tax professionals trust most. With over 73,000 users and 2,350 corporate clients, 45% of all 1120 returns were E-filed through ONESOURCE*. These corporate tax leaders have chosen ONESOURCE Income Tax as their solution for the lowest risk exposure. One way to lower risk while still bringing your return in house is to provide your advisory firm with access to ONESOURCE Income Tax in a co-sourcing arrangement that leverages their expertise as you need. *Based on comparing form 1120 returns transmitted through ONESOURCE Income Tax to 2016 totals cited in IRS Publication 6186 (rev. 12-2016)
customers say
"The time and expense of hiring qualified staff may be high and require added managerial oversight to my position. Would the benefits of bringing on in-house expertise outweigh this?"
OUR ANSWER
The benefits of hiring a dedicated in-house tax expert far outweigh the extra cost and effort involved. This additional resource would make it possible to manage a broad range of strategic tax activities including federal and state income tax compliance reporting, and annual and quarterly tax provision reporting preparation. He or she would also be able to help you respond quickly to federal and state audit-related requests, lower exposure to interest and penalties, and reduce the risk of errors. Plus you will be able to gain greater visibility into key tax metrics, support strategic tax planning and forecasting, and consider a roadmap for future tax process automation technology. This staff member could also take on tax planning that would help lower federal and state ETR, help manage cash tax, and forecast and model effects of regulatory change or business decisions. ONESOURCE Income Tax can provide the expertise, tools, and technology this resource would need to be successful. As the industry standard with over 73,000 active users in 2017, ONESOURCE Income Tax is known across the corporate and professional tax community.
customers say
"I understand the benefits we might receive by controlling our process, managing our data and adding tax expertise to provide strategic tax value. But will the total cost of ownership of software, implementation, and staff training be enough to significantly offset the fees we pay for outsourcing now?"
OUR ANSWER
From a holistic viewpoint, hiring qualified tax professionals and bringing your return in-house will lower your cost of compliance both in the short- and long-term. While the cost of tax systems adoption is generally higher in the first year, these costs represent a fraction of the cost of outsourcing income tax compliance work to a firm, and the savings in future years will be even greater.
customers say
"I'm concerned about the risk of losing confidential and sensitive data that I have provided to my outsourcing firm. My company relies on maintaining confidential financial and tax data and loss could have serious ramifications to my business."
OUR ANSWER
Rest easy knowing your data is secure in ONESOURCE Income Tax and protected by up to date, certified systems — with access limited only to those you authorize.
customers say
"I've seen significant turnover of staff at my outsourcing firm. Every time this turnover occurs, I must spend time re-educating new staff on the tax implications of our specific business. This cycle of turnover and retraining is distracting to me and lowers the value of the outsourcing service."
OUR ANSWER
By using ONESOURCE Income Tax, you gain a consistent and repeatable process for your income tax compliance reporting that is documented. Staff changes will likely be infrequent and, should they occur, new staff can easily continue your tax process.
U.S. corporate income tax customers also buy these solutions
Get everything you need to automate and streamline your corporate income tax process, from planning and provisioning to filing and reporting.

Ready to start a conversation?
Need more information about how our solutions can work for you? Drop us a line and someone from our sales team will get back to you. Or you can call a representative in your region at +1 800 865 5257.