Building a more progressive firm
Over the past decade, the Thomson Reuters Partner Summit Thought Leadership event has given hundreds of firm leaders a unique opportunity to learn how to build a more progressive firm. Become part of this exceptional group at one of this year's events where Thomson Reuters speakers and guest practitioners will share the perspective they've gained over the years offering advisory services. You will learn the steps you need to take to redefine your business model and distinguish between value-added advisory services and compliance services — and how you can monetize the value of that difference.
Partner Summits are among our most popular and thought-provoking events of the year and they fill up fast. So leave behind the daily grind for this two-day summit and invest in strategic thinking that will take your practice into a more progressive future!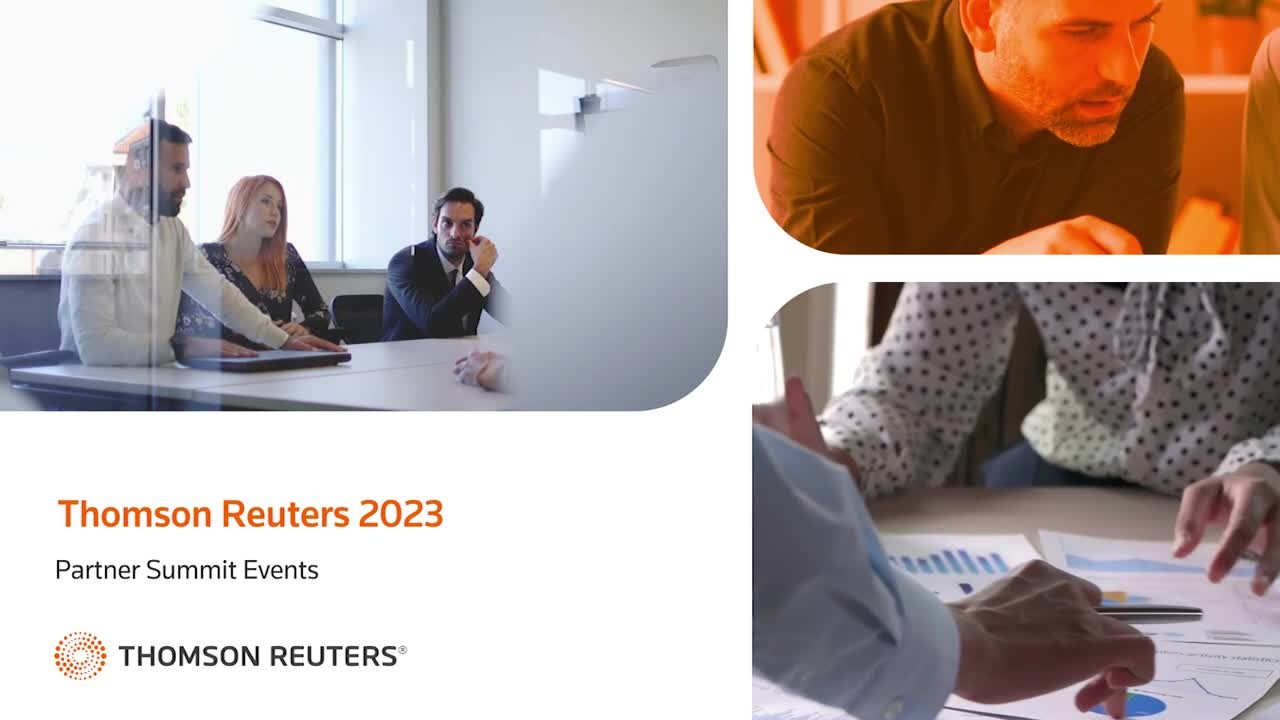 01:50
Great Location, Great Sessions.
| Location | Date | Hotel |
| --- | --- | --- |
| Santa Barbara, CA | May 24-25 | Hilton Santa Barbara |
| Austin, TX | June 14-15 | Lakeway Resort |
| Nashville, TN | August 2-3 | Grand Hyatt Nashville |
| Annapolis, MD | August 16-17 | Annapolis Waterfront Hotel |
| Las Vegas, NV | Dec. 6-7 | Caesars Palace |
If you're interested in attending, you can also call your sales representative at +1 800 968 8900.

Agenda in local time zone of event and subject to change
| Time | Activity |
| --- | --- |
| 7:30 a.m. - 8:30 a.m. | Breakfast |
| 8:30 a.m. - 11:00 a.m. | The Arc of Change |
| 11:00 a.m. - 12:00 p.m. | The Advisory Firm Model |
| 12:00 p.m. - 1:15 p.m. | Lunch |
| 1:15 p.m. - 2:45 p.m. | The Advisory Firm Model |
| 2:45 p.m. - 4:00 p.m. | The Advisory Firm Model Workshop |
| 4:00 p.m. - 5:30 p.m. | Advisory Panel and Cocktail Reception |
| 6:00 p.m. | Thomson Reuters hosted Dinner |
CPE Credits – 14 hours
CPE Field of Study – Business Management & Organization – Non-Technical
*Agenda subject to change
| Time | Activity |
| --- | --- |
| 7:45 a.m. - 8:45 a.m. | Breakfast |
| 8:45 a.m. - 10:15 a.m. | Evaluating and Transitioning Existing Clients |
| 10:15 a.m. - 12:30 p.m. | Prospect Acquisition |
| 12:30 p.m. - 1:45 p.m. | Lunch |
| 1:45 p.m. - 2:45 p.m. | Roundtable Discussions |
| 2:45 p.m. - 3:45 p.m. | Business Leadership |
CPE Credits – 14 hours
CPE Field of Study – Business Management & Organization – Non-Technical
*Agenda subject to change
Partner Summit 2023 presenters
As the managing partner of FMA, C.P.A., a business advisory, tax and accounting firm based in Clearwater, FL, Mark Martukovich is building a firm that focuses on being the trusted advisor for his clients.
Since joining the firm in 2009, Mark had been trying to build a business model that promoted the practice as an advisory firm. However, he struggled with a clear message and delivery method. In 2014 he attended his first Partner Summit, where he was introduced to the Breakthrough Firm concept — and he knew he'd found the model he needed to transform the firm.
He took the next step with the Thomson Reuters Practice Forward offering, becoming one of the first Practice Forward "graduates." Since then, Mark has been successfully transitioning his firm from a traditional tax practice to a business advisory and accounting firm.
Mark graduated from The University of Akron with a degree in accounting, and is a licensed CPA in Florida and Ohio. He began his career as a staff accountant in Cleveland, Ohio, and transitioned into a business development role when he became the director of business development for the College Store Trade Association. He then spent 10 years as a commercial banker in the Tampa Bay area, working with small businesses to help them finance their capital needs, streamline their businesses, and plan for their eventual succession. Mark has more than 30 years of tax and accounting, business development and consulting experience with small and medium-sized businesses, and is the Managing Partner for FMA, C.P.A. He has successfully transitioned from operations into being the firm leader that focuses on business development and growing the advisory practice. He also currently serves on the Board of Directors of the SPCA Tampa Bay and is an active member in one of the largest business networking groups in the country.
Since 1989, FMA, C.P.A. has been providing tax and accounting services, and has significantly grown the firm's revenues coming from offering advisory service engagements. The recurring revenue from advisory engagements has grown to nearly 50% of overall revenue and is expected to reach the $1 million mark in 2022. As an advisory firm, FMA, C.P.A.'s clients view the firm as a professional board member that helps its clients view their business and the relationship with FMA, C.P.A. as an investment.
Any CPA firm can record history, FMA, C.P.A. can help you build a future.
Brittany is managing partner of Lanphier LLP, a tax and advisory firm in Denver, CO, that she established with her husband, Dennis, in 2009. Over the past 12 years, they have developed their practice around a relationship-based, advisory-focused approach to client service.
Brittany and Dennis established their firm upon exiting Big 4 accounting with a vision for bringing big firm expertise to a boutique environment, serving small businesses and individuals with sophisticated tax needs. However, in their first six years in practice, they found themselves running up against many of the challenges that so many CPA firms face in their efforts to provide excellent service — tremendous workload, long hours, growing overhead, and difficulty capitalizing on the value they were delivering to their clients.
In 2016, they attended their first Partner Summit, and were introduced to the concept of the Breakthrough Firm. The message resonated deeply with the type of firm they wanted to be while addressing the obstacles that were currently preventing them from achieving it. Using the tools and consulting offered through Practice Forward, they have completely transformed their firm. In the past 6 years, they have significantly increased top line revenue, bottom line profit, and profitability by client. These changes have allowed them to grow their firm more strategically, increased cash flow for investing in new staff, and dramatically improved their quality of life as firm owners.
Brittany graduated Summa Cum Laude from Texas A&M University with a B.B.A. in Accounting and an M.S. in Finance. She was recruited by Deloitte to join their International Tax team in Denver, where she met her husband, Dennis. They now have 3 young daughters, Brooklyn, Addison, and Hallie, and make their home in South Denver.
Brittany and Dennis continue to invest in their practice using the Breakthrough Firm principles to create systems that empower staff and allow them to step into a true leadership and growth role within the firm.
As a Principal Trainer at Thomson Reuters, Therese has more than 20 years of experience empowering tax and accounting professionals to embrace change and improve the operations, profitability, and success of their businesses.
Therese is a lead presenter at our Partner Summit, Advisory Symposium, and Evolve Your Practice thought leadership events, SYNERGY Users' Conference, at various profession events, and at firm-sponsored events. Specializing in the tax workflow and document management software she has helped thousands of practitioners, in hundreds of firms across the country, better use technology and take advantage of integrated solutions.
Therese joined Thomson Reuters in 1999 as a product support representative for the tax product suite product lead for UltraTax/1040 and e-filing. She has been involved in product validation testing, on-demand training development, and content creation. In 2005, Therese joined the Professional Services team where she provides onsite and web-based trainings for UltraTax CS, Fixed Assets CS, FileCabinet CS, and Planner CS.
Therese holds a bachelor's degree in accounting with a minor in management from Western Michigan University, and is a CompTIA CTT+ Certified Professional Trainer.
As a Senior Business Advisory Consultant with Thomson Reuters, Mo is passionate about working with clients across the country and delivering an exceptional client experience. Mo specializes in advisory, tax, and operational workflow and is a lead presenter at Partner Summit, Advisory Symposium, Evolve Your Practice, and SYNERGY Users' Conference.
In 2012, Mo joined Thomson Reuters as a product support representative for UltraTax CS. He then became a specialist for UltraTax CS and served as a product mentor and trainer and assisted the UltraTax CS Development Team with product validation testing. In 2016, Mo joined the Professional Services team where he provided live and web-based implementations for GoFileRoom, AdvanceFlow, Onvio, UltraTax CS, Fixed Assets CS, Planner CS, FileCabinet CS, and NetClient CS. He is also involved in developing training content and course materials.
Prior to joining Thomson Reuters, Mo worked for a local CPA firm focusing on Individual Taxation. He manages his own firm providing tax compliance and advisory services to individuals and small businesses. Mo continues to work with firms across the country to bring positive change to their workflow, enhance their use of technology, and develop best practices to ensure their success in an ever-changing industry.
Mo holds a bachelor's degree in accounting from Eastern Michigan University.
Further in your advisory journey?
Explore the 3-day Advisory Symposium which aims to help practitioners elevate their advisory journey and capitalize on the success of their business