Services - ONESOURCE tax & accounting - Thomson Reuters

Professional services
The implementation support you need for your ONESOURCE software
The best-in-class tax departments not only hire the brightest people and deploy the leading technology, but they understand the process requirements to optimize each of these crucial resources. Our services team helps you to implement your ONESOURCE software and develop ideal processes to best complement your investment in technology and people.

Achieve optimal ROI from your tax software in 3 simple stages
Our services team uses a 3-stage approach to achieving a successful implementation.
Design and analysis — We'll collaborate with your company to build an implementation plan that relieves process bottlenecks and uncovers new opportunities for improvements.
Implementation — Our team will complete your system setup and replication process, making your software ready for use.
Delivery and rollout — Our services team will stay with you to test your new technology and train or transition your staff, helping you through from start to finish.
A team of experts at your service
At ONESOURCE, our services team consists of more than 100 experts from industry, firm, government organizations, and more. They include CPAs and others with advanced degrees, with a combined 250 years of industry experience. Our experts are intimately familiar with the entire ONESOURCE product suite and can help with projects of all sizes, anytime.

ONESOURCE tax software implementations: White paper
This paper explores the critical aspects to consider in implementing a software tool, including the benefits of a staged approach, where to spend your budget, and what expectations to set during the process.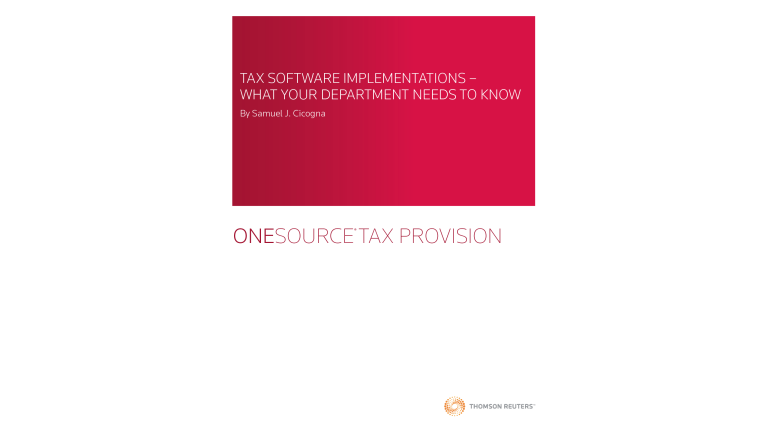 Ready to start a conversation?
Need more information about how our solutions can work for you? Drop us a line and someone from our sales team will get back to you.
Or, you can call a representative in your region at