Tax and accounting
Corporate income tax compliance solutions
Calculate your estimated payments and complete your returns with greater efficiency
Effortlessly prepare and file federal, state, and international tax returns
Simplify complicated forms and meet your corporate filing requirements with ease.
Complete tax returns easily and accurately with ONESOURCE Income Tax
Everything you need from efficient corporate tax preparation software:
Simplify calculation and reporting with full tax compliance
Conduct efficient research with a built-in, customizable tax law database
File tax returns and schedules online — and check their status — with IRS e-filing
Eliminate time-consuming and tedious tasks with Estimated Payments
Up-to-date tax law software to help you reduce research time and better contain both manual input and data errors:
Automatically pull in existing tax data to save time and avoid errors
Make research quick and efficient with a built-in, customizable tax law database
Automatically populate state-approved vouchers with calculation results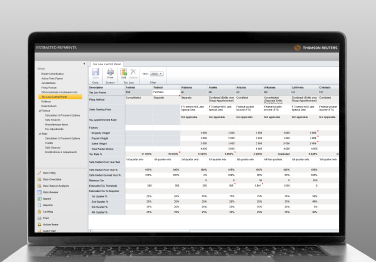 Discover more about our tax planning and preparation solutions
Whether you're looking for tax and accounting or international trade and supply chain solutions, uncover products that will give your organization the boost it needs.
Questions about our products and services? We're here to support you. 
Contact our team to learn more about our tax and accounting solutions.
Need help?
View account and product support
Already a customer?
Go to product logins