Thomson Reuters Workpapers CS streamlines processes, offering instantaneous collaboration and the ability to manage documents and data from a variety of sources. Integrated research and tools combine with powerful reporting capabilities to deliver one solution for both guidance and engagement for your clients. Collaborate in real time with your team through a single-interface, single-database structure without having to sync, import, or export information. Available as either a cloud-based or local installation, Workpapers CS puts the information you need at your fingertips, empowering you to make a positive impact on your clients' businesses.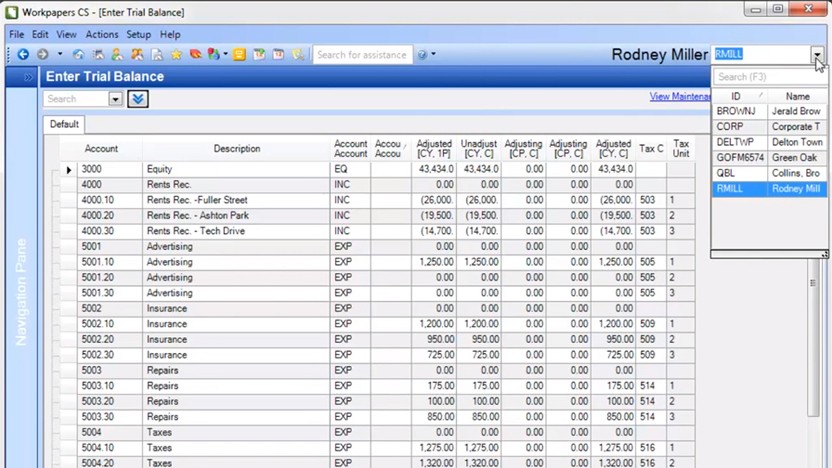 20:13
See how you can use Workpapers CS to manage everything for your tax engagements in one place.

What you get with our powerful tax workpapers
A sophisticated binder system, extensive configurability, and powerful efficiency features make your work fast and easy.
Import data from a spreadsheet, quickly and easily verify client balances, and transfer to tax returns.
Give all team members simultaneous access to tax workpapers and the trial balance, with role-specific dashboards to standardize how your firm works.
Create template clients or build the client by selecting Thomson Reuters PPC guides and using Microsoft® Excel® and Word documents already in use.
Set permissions for your staff and track their activities, so that the right people sign off on the right parts of an engagement.
Enjoy organized and labeled source documents that are automatically scanned with the data and transmitted to UltraTax CS.
Watch Workpapers CS in action
Free Up Your Firm for Tax Season
Watch this free recorded webcast and see how using workpaper capture and management tools can give you more time and resources for higher-value client services.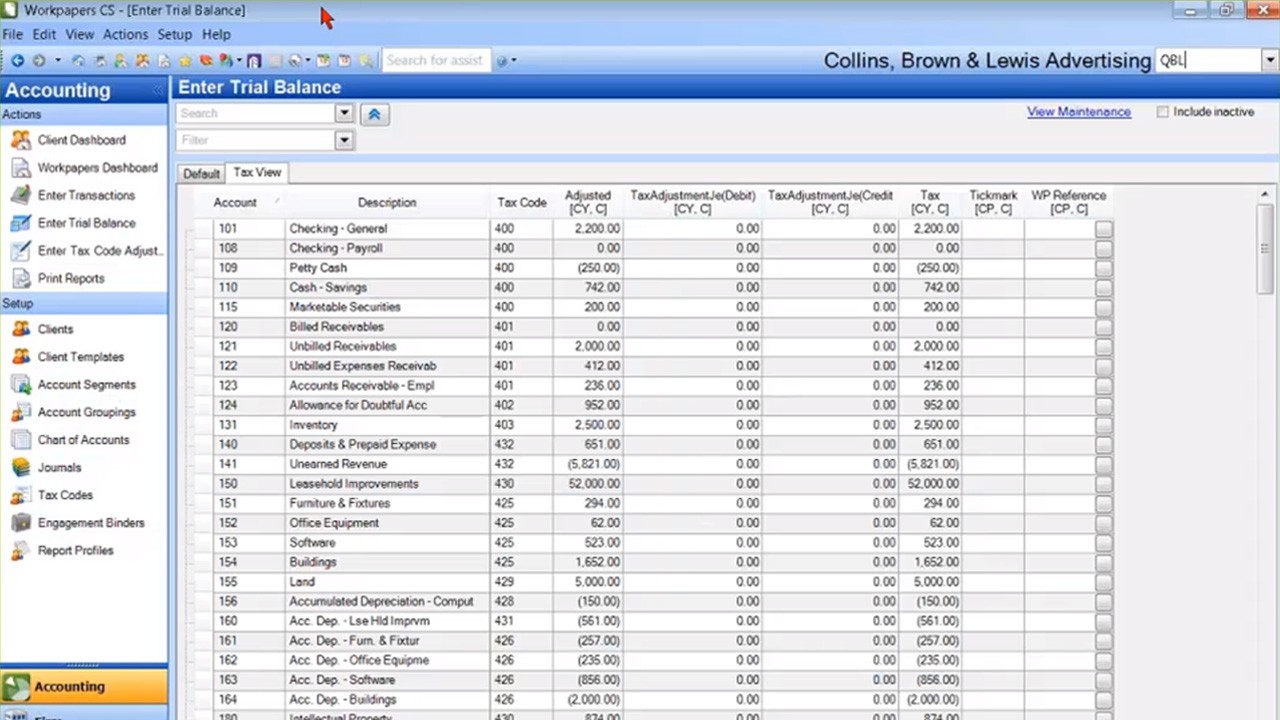 56:17
22:22
Streamline Your Tax Workflow with Workpapers CS
See how Workpapers CS can help you streamline and simplify your tax workflow process.

Demo: Workpapers CS Scanning and Organizing
See how Workpapers CS helps reduce data entry time and errors.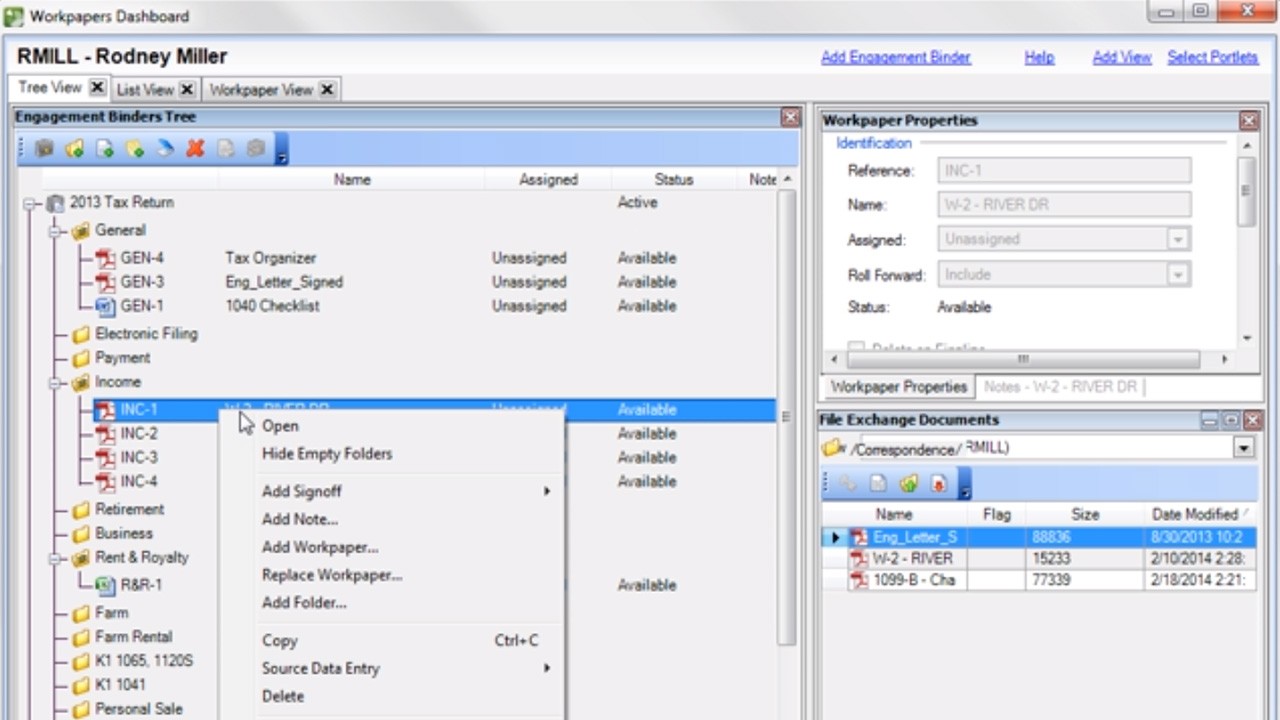 04:55
Integrate Workpapers CS with these products and services to streamline your tax workflow
1

This process enables you to capture data directly from scanned documents using Optical Character Recognition (OCR) technology.

2

Control how balances flow and how subschedule details display in your tax application.

3

You can transfer adjusted balances to UltraTax CS, GoSystem Tax RS, Lacerte®, ProSystem® fx Tax, and ProSeries®.


4

Import PDF files captured on your mobile device and add tick marks, stamps, text, and more. Plus, you can scan tax workpapers, including images, directly into the engagement binder with a tablet or smartphone (available only on locally installed versions of Workpapers CS).


5

Record and reconcile the difference between adjusted net income and tax net income with the Tax Adjustments utility.
Two ways to use Workpapers CS in the cloud
Our hosted solutions offer remote software access, relieving you of IT burdens and providing industry standard security for you and your clients' data.

Get anytime, anywhere online access to CS Professional Suite and select Microsoft® products in the cloud.
Lease online versions of our entire award-winning CS Professional Suite, plus Microsoft® Office and Exchange.
I think Workpapers CS extends the functionality of Engagement CS significantly. That collaboration concept in Workpapers CS and the ability to guide people into what you want to have things organized with is a really big step up.
CPA Practice Advisor 2020 Readers' Choice Award
Winner: Audit/Engagement Tools
Ready to start a conversation?
Need more information about how our solutions can work for you? Drop us a line and someone from our sales team will get back to you.
Or, you can call a representative in your region at +1 800 968 8900.
Explore our store for accounting and auditing journals, libraries, and other relevant research tools.