Global tax determination software| Thomson Reuters ONESOURCE

Global tax determination software
Get accurate sales, use & excise tax, VAT, and GST for your indirect tax calculations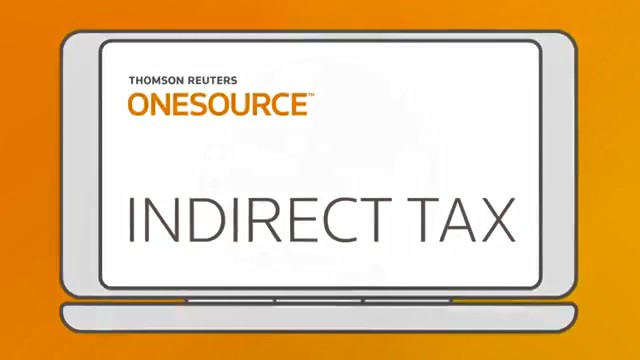 02:18
Managing indirect tax compliance around the world
Thousands of domestic and multinational corporations count on Thomson Reuters ONESOURCE for the only truly complete indirect tax solution — from research to determination and compliance.
Why choose ONESOURCE Determination
As your enterprise business grows, calculating, collecting, and reporting for global indirect tax purposes gets more complicated. You need to accurately report on value-added tax (VAT), goods and services tax (GST), and sales and use tax – no matter how often the rates change. Our cloud-based global tax determination software allows companies to automate transactions without the headache of managing and maintaining an in-house tax engine or reporting system. Many Fortune 500 companies have relied on our global tax technology for more than a decade. Because it's in the cloud, our tax automation software can scale quickly to the size of your company, for less cost.
We wanted to use a simple system, a single set of rules that the tax department could control — not IT and not the end user — to make sure that our tax liability was accurate.
What you get with our global tax determination software
Accurately calculate your global indirect tax with an end-to-end automated solution for sales, use, and excise tax, GST, and VAT.
Connect to ERP, financial, billing, and e-commerce payment systems through pre-built and custom integrations.
Reduce the risk of audit-triggering mistakes, thanks to our in-house expertise backed by SSAE 18 and ISAE 3402 certified processes.
Ensure all your global tax liability needs are met with our tax engine that handles corporations of all sizes and geographic reach.
With Thomson Reuters ONESOURCE Determination, you can keep using the business systems you know and love, while improving the way you manage global transaction tax.
Seamlessly connect to your existing ERP, CRM, e-commerce, or POS platform and other purchasing systems to make sure your global indirect tax calculation and compliance is consistent across your company worldwide
Integrations available for both the on-premise and cloud-based technology versions of Determination
Use standard APIs to connect your global sales tax software behind the scenes for a seamless experience, instead of worrying about complex software implementations
Tailor your tax automation software integration to your specific workflow processes, so you'll be up and running with little to no downtime
For more information about the business systems we integrate with, visit our integrations directory.
Have questions about global tax and automation? ONESOURCE Determination has answers. Learn how to configure your company structure, set up tax calculations for global jurisdictions, streamline tax returns, and more.
Indirect tax customers also buy these solutions
Our solutions provide automation and accuracy across tax and finance workflows from tax determination through final remittance and compliance.

Ready to start a conversation?
See why Fortune 500 companies have relied on ONESOURCE Determination for more than a decade. Drop us a line and someone from our sales team will walk you through a personalized demo.
Or you can call a regional representative at