Tax and accounting
Sales tax certificate management
Optimize your processes with certificate management software that increases accuracy and efficiency while saving you time
Accurately track and manage sales and use tax exemption certificates
Increase the efficiency of collection, validation, and reporting on tax exemption certificates and reduce the risk of costly penalties.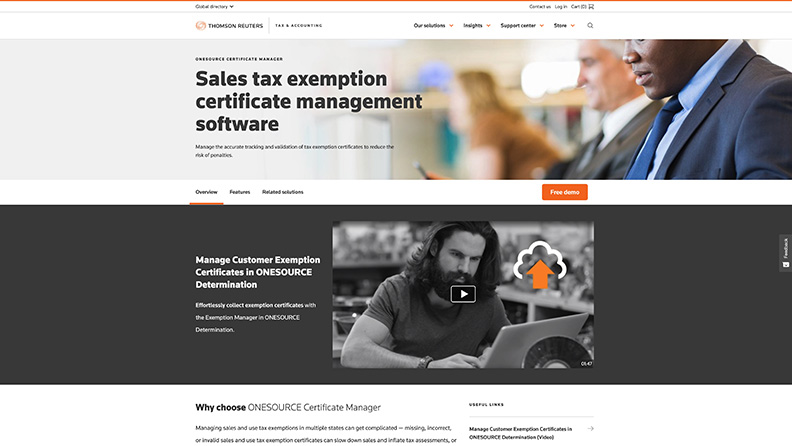 Rely on ONESOURCE Certificate Manager to handle your tax certificates
Effortlessly manage your sales and use tax exemption certificates with online capabilities that enable you to:
Let your customers upload their own indirect tax exemption certificates directly to the Certificate Manager Portal
Boost the accuracy of your indirect tax calculations and reports with integrated tax determination software
Streamline research with our library of more than 300 current and historic indirect tax forms
Discover more about our data and document management solutions
Whether you're looking for tax and accounting or international trade and supply chain solutions, uncover products that will give your organization the boost it needs.
Questions about our products and services? We're here to support you. 
Contact our team to learn more about our tax and accounting solutions.
Need help?
View account and product support
Already a customer?
Go to product logins