Tax and accounting
Document management for accounting firms 
Electronically store and manage tax documents to increase efficiency and offer peace of mind



Free up space and time with cloud-based technology
Our online document management solutions maximize workflows for your accounting firm by helping you banish paper files, manage your business effectively, and access documents with the click of a button.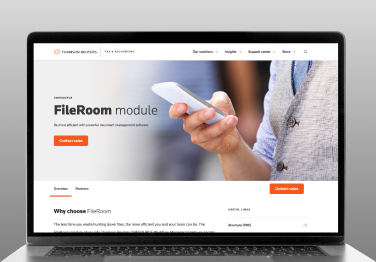 FileRoom module
Access files from anywhere with powerful document management software. Organize files with customizable folders, indexes, and reports and keep documents secure by limiting permissions.
Discover more about our data and document management solutions
Whether you're looking for tax and accounting or international trade and supply chain solutions, uncover products that will give your organization the boost it needs.
Questions about our products and services? We're here to support you. 
Contact our team to learn more about our tax and accounting solutions.
Need help?
View account and product support
Already a customer?
Go to product logins