Free Trade Agreement Management

Software that identifies opportunities to qualify goods under FTA-specific rules
Why choose Free Trade Agreement Management
Unexpected customs duties can hit your global supply chain costs hard. So, we've designed ONESOURCE Free Trade Agreement (FTA) Management, a software to help you take advantage of FTAs by identifying opportunities to qualify goods under FTA-specific rules of origin. Streamline logistical processes and cut down on manual work so you can comply with guidelines and reduce or eliminate duties. Our software's unique architecture can accommodate any existing, changing, or future free trade agreements, including USMCA, CFTA, SFTA, AFTA, ILFTA, JFTA, UKFTA, CAFTA, and TAFTA.
Free Trade Agreement (FTA) Analyzer is a decision-making and analytics tool that delivers up to the day reports detailing which sourcing countries, trade lanes, and trade agreements provide the most favorable return on investment, based on company-specific trade data. Use FTA Analyzer to identify FTA savings available across the supply chain, leveraging our global trade content database to ensure you stay current as duty rates change or new FTAs come into force.
What you get with our FTA software
Use your data to find the best FTA utilization strategies in cases of overlapping agreements and supply chain location decisions.
Apply the latest rules of origin for current and future free trade agreements.
Support FTA compliance monitoring by using our system-based document retention for easier verification.
Get the capability to monitor FTA origin status of products on a regular basis.
Manage suppliers and FTA certification and validate thresholds online.
Watch Global Trade for Free Trade Agreements in action
Meet each trade challenge with confidence with ONESOURCE Global Trade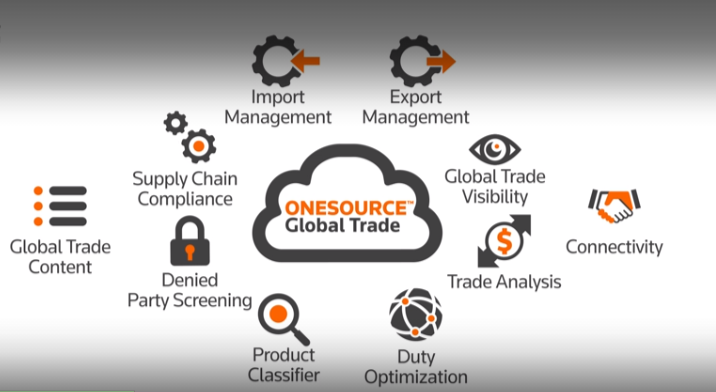 05:54
Global trade customers also buy these solutions
With our suite of solutions, you can consolidate all global trade processes using a single user interface for everyone involved in the supply chain.

Ready to start a conversation?
Need more information about how our solutions can work for you? Drop us a line and someone from our sales team will get back to you.
Or, you can call a representative in your region at
888-885-0206
Explore our store for global trade management journals, libraries, and other relevant research tools.