Key payroll compliance challenges that firms like yours are facing today
We're halfway through the year and already seeing how fast-changing legislation is influencing payroll compliance. From proposed budget changes to a highly anticipated tax reform, successful firms like yours need to know how these possible proposals could affect payroll processing and administration, so you can prepare your clients.
During this free webcast, myPay Solutions Director of Compliance and American Payroll Association (APA) Immediate Past President Jim Paille will offer an in-depth look at the latest legislation and requirements that could affect how you manage payroll. He'll share his insights on frequently misunderstood payroll requirements that could help you and your clients avoid tax compliance risks. You'll also hear from a thought leader in the profession, who will discuss how partnering with a payroll processing service can help you stay ahead of these ever-changing rules and regulations.
In this webcast, you'll learn more about:
The latest payroll news, including how the president's budget proposal will impact paid family leave, mandatory E-verify, sick pay and more.
Payroll hot topics, such as 2017 W-2 changes, Preparer Tax Identification Number updates, the Electronic Federal Tax Payment System program, an upcoming W-2 verification project and same-day ACH phase two updates.
Tour myPay Solutions Direct and get a firsthand demonstration of what your clients see when they use myPay Solutions payroll services.
We hope you'll join us to learn more about these complex issues affecting payroll professionals, and how your firm can overcome challenges faced in today's evolving compliance landscape.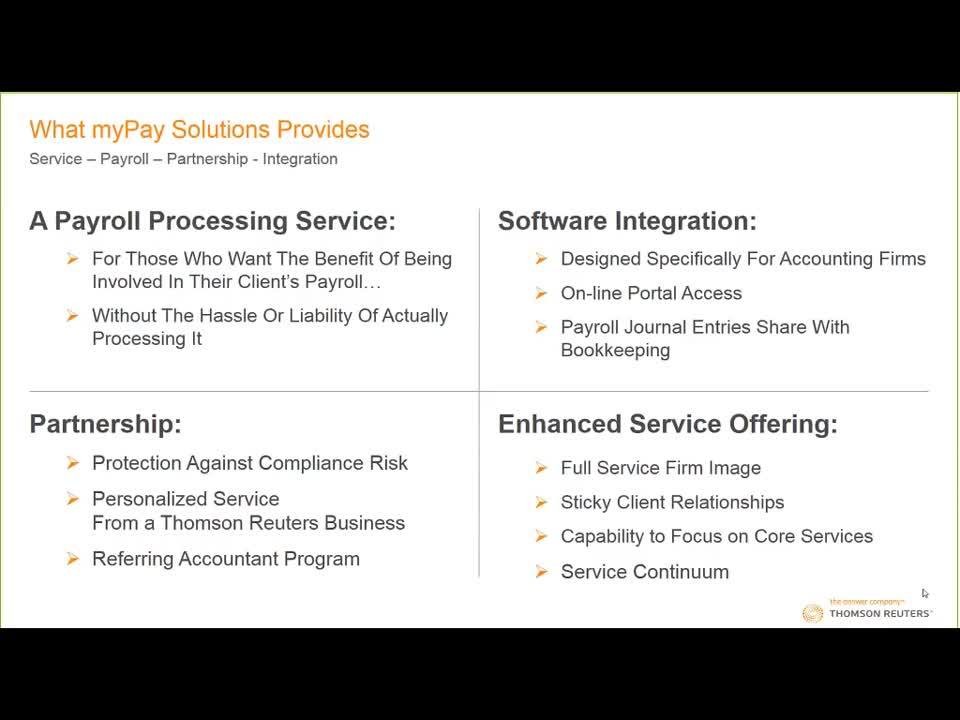 01:01:14