The Tax Cuts and Jobs Act's Impact on Payroll
We're halfway through the year and we're seeing how the Tax Cuts and Jobs Act (TCJA) is still driving questions from clients and presenting new opportunities (and challenges) to payroll providers. Your clients are looking to you for guidance on tax reform and successful firms like yours need to know how the legislation impacts payroll processing and HR administration.
In this free webcast, myPay Solutions Director of Compliance and American Payroll Association (APA) Past President Jim Paille offers an in-depth look at payroll requirements that could help your clients avoid tax compliance risks. In addition, we will review the immediate response of Thomson Reuters to the TCJA, including providing updated withholding tables and helpful resources.
In this webcast, you'll learn more about:
Withholding allowances rates: guidance for employers and resources to help you better advise your staff

Fringe benefits: significant changes to benefits offered on a tax-free basis that can (and can't) be deducted

Provisions to watch closely: revamp of W-4 forms, important dates, and proposals for future changes

Opportunities to partner with myPay Solutions, the Thomson Reuters payroll service offering, to succeed with offering payroll to your clients

We hope you'll watch this webcast to learn more about these complex issues affecting payroll professionals and discover how your firm can overcome challenges faced in today's evolving compliance landscape.
(Please note that this free webcast does not qualify for CPE.)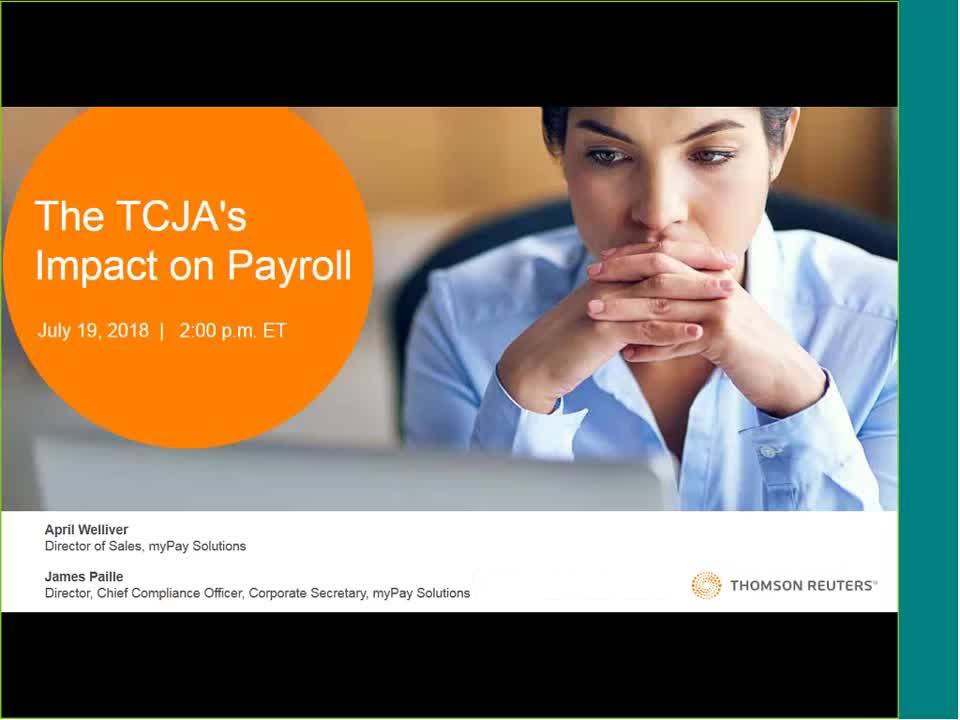 59:32