New Special Report!
YEAR-END TAX PLANNING FOR 2015
Year-end tax planning is especially challenging this year because Congress has yet to act on a host of tax breaks that expired at the end of 2014.
This Special Report describes a number of moves to make by year-end to achieve maximum overall tax savings for 2015 and later tax years. It explains how to set some basic planning goals and how to adjust income and expenses accordingly. It also includes two checklists of actions that can cut taxes for taxpayers for this year and in the years to come — one that describes actions individuals can take to save taxes and one that describes actions businesses and business owners can take to save taxes.
Request Special Report: Year-End Tax Planning for 2015
(All fields required)
---
---
» NOTE:By clicking "Submit," you agree to be contacted in order to help with your inquiry.
RELATED CPE ONLINE COURSES
---
CPE Credits: 10 | Price: $140.00 or or FREE with Premier Plus*
CPE Credits: 6 | Price: $96.00 or or FREE with Premier or Premier Plus*
CPE Credits: 9 | Price: $126.00 or FREE with Premier or Premier Plus*
CPE Credits: 7 | Price: $112.00 or or FREE with Premier or Premier Plus*
---
CLIENT COMMUNICATIONS & MARKETING SOLUTIONS
As a trusted advisor, you have an obligation to educate your clients on tax planning and minimization strategies as well as keep them up to date on legislative changes and filing deadlines. Present yourself as a thought leader to earn loyalty, new referrals and additional opportunities for more profitable engagements. Enhance your client communications with tax planning guides, customized articles, social media posts, ready-to-present seminars and relevant topical newsletters branded uniquely to your firm.
RELATED GUIDANCE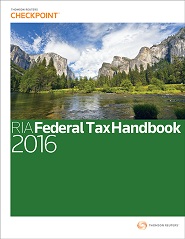 Designed to provide quick and easy access to critical tax questions, the RIA Federal Tax Handbook offers comprehensive, insightful guidance on federal tax law, including the latest regulations, rulings, and revenue procedures as well as precise explanations about changes that could impact your business or your clients.
---

Designed to help you answer your clients' federal tax questions, Tax Desk provides a wealth of useful definitions, cautions, illustrations, recommendations and observations in clear business language, with a unique, practice-oriented focus.
---

Designed to provide complete and thorough answers to all your clients' federal tax questions, the Federal Tax Coordinator 2d offers a detailed and comprehensive analysis of all Federal tax laws, regulations, relevant court cases, and IRS rulings and releases. The expert analysis is supported by extensive and detailed citations to controlling authorities.
---
Already a Customer?