Hot topic
Tax reform
Get trusted answers to your tax reform questions
Stay on top of tax reform with the latest trusted guidance, tools, and software
Given the sweeping and broad nature of the Tax Cuts and Jobs Act (TCJA), it's critical you have the insight and tools you need to fully understand and comply with the changes resulting from this major tax reform.
We've pulled together a comprehensive collection of resources to ensure you have everything you need to comply, prepare, and advise on the many changes in the TCJA — including software, research, guidance, tools, news, learning solutions, and marketing. Get tax reform answers you can trust from Thomson Reuters.
Blog articles
Brace for new reporting and disclosure burdens under the Section 199A Qualified Business Income Deduction
Aggregation Option - Maximizing the Qualified Business Income Deduction
Multiple Trusts and the Section 199A Qualified Business Income Deduction
Determining W-2 Wages Under the Section 199A Qualified Business Income Deduction
It's now more important than ever to keep up with shifts in the regulatory and technology environment
30 years
Time since the last significant reform of the U.S. tax code prior to the Tax Cuts and Jobs Act
A top-five concern
"Keeping up with changes and complexity of tax laws" ranks in the top five of concerns for a variety of firm sizes1
80%
The percentage of CPAs that believe their role will change significantly by 20252
Featured resource
Tax Cuts and Jobs Act Accounting Firm Toolkit
The information and practice aids to help guide your clients for this year and the future
Critical new tax reform guidance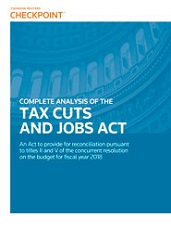 Complete Analysis of the Tax Cuts and Jobs Act
The Checkpoint Complete Analysis of the Tax Cuts and Jobs Act offers comprehensive analysis of these complicated changes, including client letters.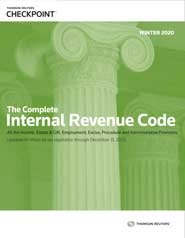 Complete Internal Revenue Code
The Checkpoint Complete Internal Revenue Code contains all legislative changes up to its publication date and a complete history of all amendments affecting a Code Section — including the 270+ Code Sections impacted by this legislation.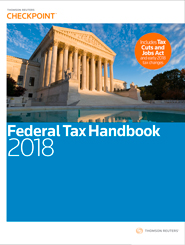 Federal Tax Handbook 2018
The updated 2018 Federal Tax Handbook offers insightful guidance on federal tax law, including the recently enacted Tax Cuts and Jobs Act.
Access free comprehensive resources
CPE and training
Online courses, webinars, and more
Checkpoint Learning offers courses to get you up to speed on what you need to know now about the TCJA. We will continue to roll out new titles this year to cover this legislation in depth, as well as updating our core offerings such as Gear Up 1040 seminar, Federal Tax Update full-day webinar, Monthly Tax Alert webinar and more.
Know the Law, Use Your Tools: 2017 Tax Cuts and Jobs Act
UltraTax CS users: review the key tax planning opportunities available due to the recent changes in tax law, learn how to identify affected clients, and to prepare and deliver actionable tax plans to build trusted advisor relationships.